Lufkin Memorial Earns Top Performance Quality Award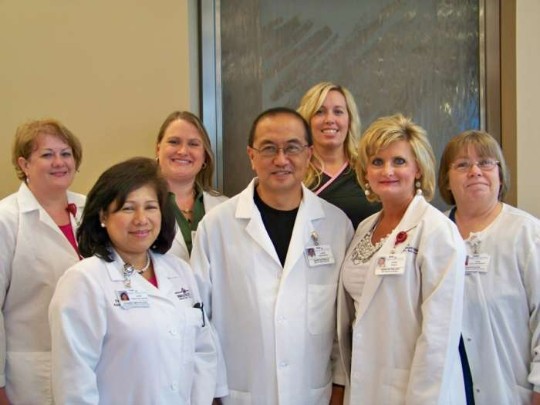 Memorial Medical Center—Lufkin  has been named a top performer in a Centers for Medicare & Medicaid Services (CMS), Premier healthcare alliance value-based purchasing (VBP) project that rewards hospitals for delivering high quality care in six clinical areas.
Based on fifth-year results from the Hospital Quality Incentive Demonstration™ (HQID) project, Memorial Medical Center--Lufkin received 6 awards for Top Performance and Attainment in the clinical areas of Heart Failure, Pneumonia and SCIP (Surgical Care Improvement Project).
Due to its successes, Memorial Medical Center—Lufkin will receive a monetary award from CMS, which awarded incentive payments of approximately $12 million to 218 hospitals. Memorial is the only Lufkin hospital to be recognized by CMS for the delivery of high quality care.
"Providing outstanding patient care has always been our primary focus," said Bryant Krenek, President and Chief Executive Officer for Memorial Health System of East Texas. "Our successes in this project are a testament to our ongoing efforts to enhance the quality of care we offer our patients."
"HQID was created to test the impact of economic incentives on quality," said Susan DeVore, president and CEO of Premier, a healthcare quality and cost improvement alliance of more than 2,400 U.S. hospitals and 70,000-plus other healthcare sites."As CMS prepares to implement value-based purchasing for all hospitals as required by the Affordable Care Act,HQID participants will have six years of experience with such a model." 
About the HQID project
HQID is the first national project of its kind, designed to determine if economic incentives to hospitals are effective at improving the quality of inpatient care.Through the project, Premier collects a set of more than 30 evidence-based clinical quality measures from about 225 hospitals across the country. The quality measures were developed by government and private organizations (for more information on the indicators, visit www.qualitydemo.com).
HQID tracks process and outcome measures in six clinical areas: acute myocardial infarction (AMI), heart failure, coronary artery bypass graft (CABG), pneumonia, hip and knee replacement, and Surgical Care Improvement Project(SCIP).
For hospitals participating in the HQID project, the average Composite Quality Score (CQS), an aggregate of all process and outcomes measures within each clinical area, improved by 18.3 percent over the project's first five years. Examples of the measures include the proper administering of aspirin, beta blockers and antibiotics; and readmission and mortality rates.
Award criteria – All awards are based on the change in the hospital CQS in the performance year compared to two years prior (year 3 to year 5).
Attainment Award– Hospitals that attain or exceed the median level CQS benchmark from two years prior will receive an incentive payment.
Top Performance Award–The top 20 percent of hospitals in each clinical area will receive an additional incentive payment. This group will receive the Attainment Award as well.
Top Improvement Award– Hospitals that attain median level performance and are among the top 20 percent of hospitals with the largest percentage quality improvements in each clinical area will receive an additional incentive payment.
Publish date:
Thursday, November 18, 2010
Find a Doctor
---
Looking for a doctor? Perform a quick search by name or browse by specialty.