Lufkin Surgeon Uses New Technology to Remove Tumor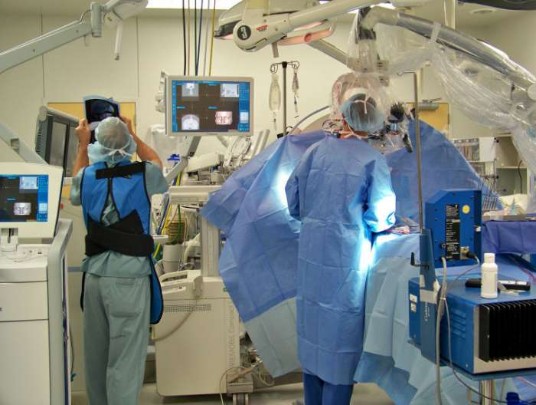 It is comparable to a GPS device, commonly used by motorists to help navigate and efficiently reach a specific destination in the shortest amount of time.  But the Medtronic Surgical Navigation System is much more than that.  It is technology that empowers surgeons to quickly and effectively make data-driven decisions in the operating room.  Memorial Medical Center—Lufkin recently invested in this state-of-the-art technology that allows surgeons to precisely track their surgical instruments in relation to patient anatomy.
"I am exceptionally pleased to have this technology available in the surgery department at Memorial," said Lufkin Board Certified Neurosurgeon Stig Peitersen, M.D. "The new technology utilizes a patient's CT or MRI images in conjunction with a powerful 3D technology, to show exactly where surgical instruments are placed in relation to the patient's anatomy."  
The Neuronavigation System is beneficial in procedures like tumor resections where surgeons can navigate more precisely, perform less-invasive procedures, and help improve clinical outcomes.  "This week I removed a pituitary tumor from a 66 year old woman utilizing the new navigation technology.  Up until now, I used a CT guided stereotactic localization to assist in tumor removal, which is more cumbersome and not as versatile as the Neuronavigation System," Peitersen said.
The East Texas Stroke Initiative, a partnership between Memorial, The Methodist Hospital and the T.L.L. Temple Foundation, purchased the new technology.  According to Peggy Mortensen, C.O.O. and System Vice President of Clinical Operations for Memorial, the technology will enhance the hospital's growing stroke and neurological care program.  "The goal of our stroke initiative is to elevate the level of stroke care to the residents of deep East Texas by offering the most up-to-date treatment methods and the best practices in caring for these patients.  Purchasing the Neuronavigation System is just one of many steps we have taken in the last several years to elevate patient care," said Mrs. Mortensen.
Publish date:
Wednesday, November 27, 2013
Find a Doctor
---
Looking for a doctor? Perform a quick search by name or browse by specialty.