Lufkin's First Pulmonologist Retires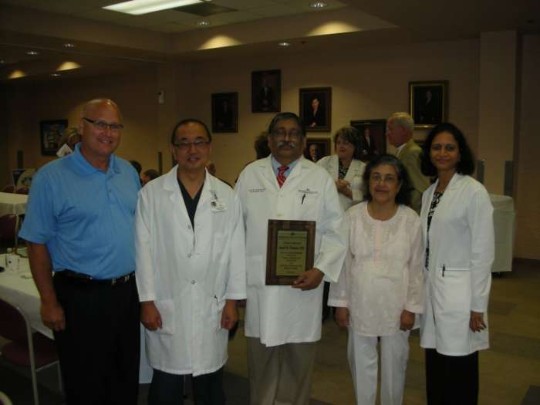 Memorial Health System of East Texas is saying farewell to Lufkin's first pulmonologist as he prepares to retire after caring for patients for almost 30 years. Jacob Thomas, M.D., began practicing in Lufkin in 1983—treating thousands of patients suffering from various lung complications such as asthma, bronchitis and lung cancer. In addition to his busy private practice, Dr. Thomas served as the Medical Director for Respiratory Services and the Chairman of the Medical Surgical/ICU Committee at Memorial Medical Center—Lufkin. Memorial recently honored Dr. Thomas with a farewell reception.  Among those thanking him for his years of service are Les Leach, Administrator-Memorial Specialty Hospital; Mario Estrella, Vice President of Patient Services; Jacob Thomas, M.D.; Sarah Thomas, wife; and Kavitha Pinnamaneni, M.D., President of the Memorial Medical Staff.
Publish date:
Tuesday, July 12, 2011
Find a Doctor
---
Looking for a doctor? Perform a quick search by name or browse by specialty.