Medical Director of Women's Services Joins Memorial Clinics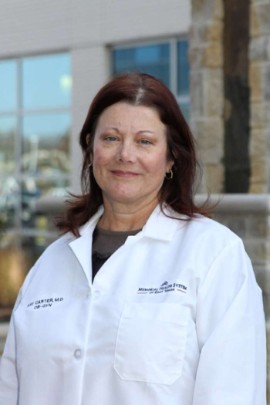 Memorial Clinics, a division of St. Luke's Health-Memorial, welcomes board certified Obstetrician and Gynecologist and the Lufkin hospital's Medical Director of Women's Services to its growing team of specialists and primary care providers. Well known throughout the community, Kaywin Carter, M.D. has served the women of Angelina County for more than 25 years.
On January 1, Dr. Carter, along with Certified Nurse Midwife Crystal Smith and Nurse Practitioner Lauren Manley, relocated to a recently renovated office in the Medical Arts Pavilion located on the Memorial campus.
"Dr. Carter has delivered thousands of babies and maintained the health of thousands of women here in Angelina County, and she's done it all with compassion and dignity," said Shawn Barnett, St. Luke's Health-Memorial COO & Lufkin President. "We are thrilled to have her on our team."
Using her wealth of expertise and knowledge of the local community, Dr. Carter serves as the hospital's Medical Director of Women's Services dedicated to broadening the services and programs offered at St. Luke's Health, which is part of Catholic Health Initiatives (CHI), a national nonprofit health system based in Englewood, Colorado. The faith-based system operates in 18 states and includes 103 hospitals, as well as long-term care, assisted- and residential living communities; community health services organizations; home health agencies and outpatient facilities and services.
This past summer Dr. Carter reached a major medical milestone demonstrating her commitment to innovative health care. As a pioneer in the robotic surgery field, Dr. Carter performed her 1,000th gynecological procedures using the da Vinci robotic surgical system, a less invasive solution to traditional surgery. She is only one of a handful of surgeons in the state of Texas to attain such a landmark accomplishment.
An avid volunteer and community leader, Dr. Carter is the Secretary for the St. Luke's Health-Memorial Lufkin Medical Staff. She also consults at the Angelina County & Cities Health District and serves as the Medical Director for the Pregnancy Help Center. She has volunteered in the past at The Adoption Center of East Texas, American Red Cross, American Heart Association, and the Junior League, and has served on the boards of the Angelina County Youth Soccer program and Lufkin Panther Lady Soccer program. An active member of Carpenter's Way Baptist Church, she has served numerous times as a physician for their Amazon Outreach Program.
In 2012, she was named the Healthcare Professional of the Year by the Lufkin/Angelina County Chamber of Commerce.
After graduating from Stephen F. Austin State University, Dr. Carter attended medical school at the University of Oklahoma and served as Chief Resident. She practiced in Conroe before moving to Lufkin in 1991.
St. Luke's Health Memorial Clinics, a division of St. Luke's Health, employs and partners with nearly 40 providers in 17 locations across East Texas, including Lufkin, Livingston and San Augustine. Memorial Clinics physicians pride themselves on delivering exceptional health care via the latest in technology and patient comfort. Specialties include Internal Medicine, Cardiology, Physical Medicine & Rehabilitation, Cardiovascular & Thoracic Surgery, Gastroenterology and Hepatology, Infectious Diseases, Obstetrics and Gynecology, Women's Health, General Surgery, Family Practice, Ear, Nose & Throat and Chiropractic care. Memorial Clinics accepts Medicare, Medicaid and most private insurance. Visit memorialclinics.com to learn more about our physicians and connect with the personalized patient portal. 
Publish date:
Monday, January 09, 2017
Find a Doctor
---
Looking for a doctor? Perform a quick search by name or browse by specialty.