Medical Director of Women's Services Reaches Surgical Milestone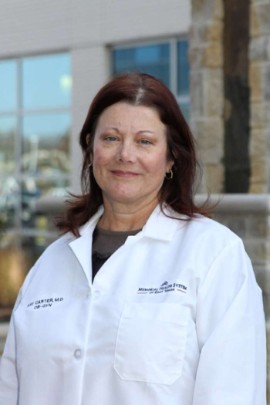 A Lufkin obstetrician and gynecologist – and the new Medical Director of Women's Services at St. Luke's Health-Memorial Lufkin – reached a major medical milestone demonstrating her commitment to innovative health care. Kaywin Carter, M.D., a pioneer in the robotic surgery field, recently performed her 1,000th gynecological surgery using the da Vinci robotic surgical system.
"This is truly a remarkable milestone," said Shawn Barnett, St. Luke's Health-Memorial COO & Lufkin President. "Robotic surgery allows patients to heal faster, leave the hospital sooner, and get back to their lives quicker. Dr. Carter has made a major difference in the lives of so many through this revolutionary experience."
Over the past seven years that she has performed robotic surgery, Dr. Carter has used her skills and experience to proctor other physicians new to the robot. She is one of only seven gynecologists in the state of Texas to surpass the 1,000 procedure mark, according to da Vinci representative Megan Walker.
"These have proven to be very successful procedures in my hands, and the patients have been really happy with [the robotic procedure]," said Dr. Carter. "Using the robot is experience driven. The more experience you have doing these procedures, the better you are at them."
In addition to her private practice and successful surgical career, Dr. Carter recently accepted the prestigious role as St. Luke's Health-Memorial Lufkin's Medical Director of Women's Services and will relocate her office to the Medical Arts Pavilion located on the Memorial campus, along with two Nurse Practitioners.
"Dr. Carter has a longstanding history with this community through her medical practice and volunteerism efforts," Barnett said. "She understands what the women in this community need in terms of outstanding health care, and we look forward to working with her to promote that."
Along with hospital leadership, Dr. Carter will help broaden the hospital's women's services program.
"I've been talking with the hospital for a couple of years now (about this role), but I formally accepted the position about three months ago," Dr. Carter said. "I'm impressed with the vision of the hospital and what they want to do with women-based health care."
An avid volunteer and community leader, Dr. Carter is the Secretary for the St. Luke's Health-Memorial Lufkin Medical Staff. She also consults at the Angelina County & Cities Health District and serves as the Medical Director for the Pregnancy Help Center. She has volunteered in the past at The Adoption Center of East Texas, American Red Cross, American Heart Association, and the Junior League, and has served on the boards of the Angelina County Youth Soccer program and Lufkin Panther Lady Soccer program. An active member of Carpenter's Way Baptist Church, she has served numerous times as a physician for their Amazon Outreach Program.
In 2012, she was named the Healthcare Professional of the Year by the Lufkin/Angelina County Chamber of Commerce.
After graduating from Stephen F. Austin State University, Dr. Carter attended medical school at the University of Oklahoma and served as Chief Resident. She practiced in Conroe before moving to Lufkin in 1991.
Publish date:
Wednesday, July 06, 2016
Find a Doctor
---
Looking for a doctor? Perform a quick search by name or browse by specialty.