Medical Laboratory Professionals Recognized at St. Luke's Health Memorial Livingston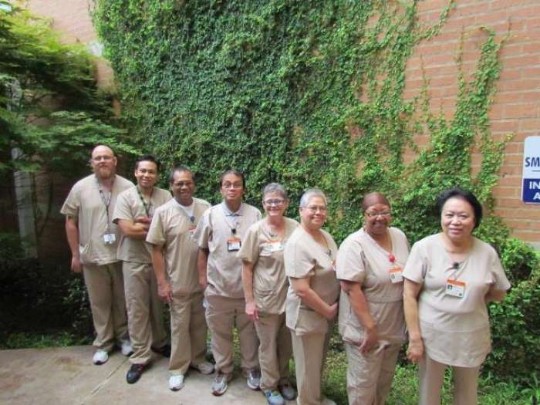 Medical laboratory professionals often work behind the scenes in a healthcare setting performing critical testing to aid physicians in making informed decisions regarding a patient's care and treatment.  St. Luke's Health Memorial Livingston recently recognized members of its laboratory team including (l to r) Wesley Smith, Robert Silveri, Felipe Segundo, Romeo Camitoc, Cynthia Brittian, Rosalina Raul, Felicia Cole and Edna Almirol, Director (not pictured: Maree Atchley, Kimberley Watson, Gloria Dykes, Lorna Gibbons, Kendra Harden-Norman, Jan Pate, Brittany Puckett, Bonnie Sander and Jemaima Yu) during National Laboratory Week. 
Laboratory professionals perform tests on body fluids, interpret the results and help provide a complete picture of a patient's health. Memorial operates a lab within the hospital as well, St. Luke's Health Express Lab.  Express Lab provides lab testing for all tests without physician orders in an outpatient setting.  The Express Lab is open Monday – Friday, 7:00 am – 3:30 pm.  For more information call 936-329-8330.
Publish date:
Wednesday, May 20, 2015
Find a Doctor
---
Looking for a doctor? Perform a quick search by name or browse by specialty.