Medical Surgical Nurses Recognized During National Week at Memorial Medical Center - Livingston
Memorial Medical Center – Livingston recently joined hospitals nationwide in celebrating Medical Surgical Nurses. Medical Surgical nurses possess specialized skills and knowledge of the entire spectrum of nursing care. One of the most diverse nursing specialties practiced today, medical surgical nurses' care for adult patients in a broad range of settings, applying their knowledge to all body systems and disease processes.  Among those being recognized are from left, Wendy Fuller-Hopson, LVN; Nazerine Jackson, LVN; Brandi Booth, LVN; Judy Burchfield, LVN; Amy Ward, RN; Denise Cain, RN; Leila Rogers, RN and Amber Davis, PCT.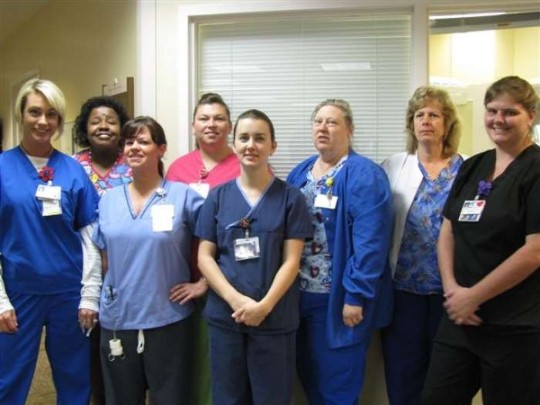 Publish date:
Thursday, November 10, 2011
Find a Doctor
---
Looking for a doctor? Perform a quick search by name or browse by specialty.