MedL available at Memorial Gift Shops, San Augustine Clinics and online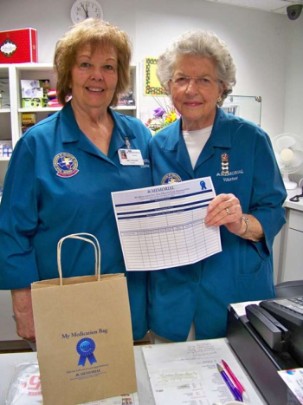 Each year, 125,000 people die because they did not take their medicine as directed. Memorial is dedicated to reducing that number through the Medication List program, or MedL.
The MedL program was developed as a part of Memorial's ongoing objective to reduce potentially avoidable 30-day readmissions among Medicare beneficiaries. Memorial Health System of East Texas, the East Texas Heart and Vascular Initiative and the Memorial Volunteer Auxiliary have joined together to encourage the community to keep an updated medication list. An easy-to-fill-out form is available at the Lufkin or Livingston Gift Shops, either Memorial Clinics in San Augustine or at memorialhealth.org.
"We noticed that many people who were admitted to the hospital could not give us a complete and accurate list of the medications they were taking at home," said Patricia Jones, RN, BA, CHCE, Director of Community Based Care, Memorial Homecare and Community Care Transitions Project. "We want to help our patients be prepared for every encounter with the healthcare system."
Jones said the purpose of the MedL campaign is to motivate the public to have ready access to a list of all the medications they are taking; to give the public the tools to make a complete and accurate list; and to prompt them to take the list and their medication bottles to every healthcare appointment.
"Fifty percent of the U.S. population is prescribed medication for chronic conditions," Jones said. "Of those prescribed medication, only 50% are taking it as directed. It's our responsibility to help our patients be prepared when they go to their doctors' appointments or to our hospital so we can reduce readmissions and prevent medication errors."
Anyone who fills out a MedL list will receive stickers and magnets to hang their lists on the refrigerator. Patients also will receive medication bags upon discharge.
A complete and accurate MedL includes prescription medications and over-the-counter drugs. A MedL should be kept in a wallet or purse at all times so it can be readily accessed in case of an emergency.
Publish date:
Wednesday, April 09, 2014
Find a Doctor
---
Looking for a doctor? Perform a quick search by name or browse by specialty.