Memorial Announces Partnership with The Methodist Hospital to Enhance Heart & Vascular Care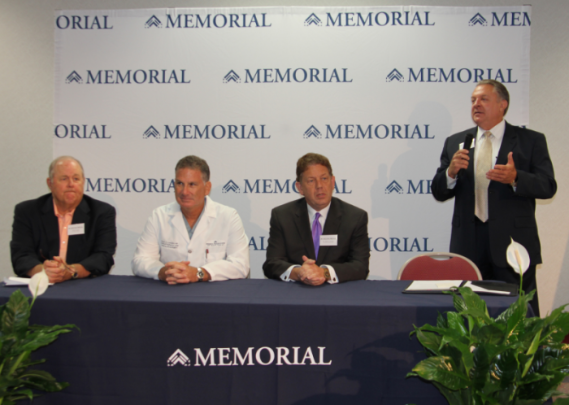 Within Memorial's service area, the prevalence of stroke, heart disease, diabetes and obesity is higher than the state average. The statistics for smoking, high cholesterol, high blood pressure and residents who do not regularly exercise are also higher in deep East Texas than across the state. Angelina County ranks 177 out of 221 counties in Texas for poor health.
Armed with this alarming information, the Methodist DeBakey Heart & Vascular Center (MDHVC) and Memorial Health System of East Texas joined together for a three-year collaboration to announce the East Texas Heart & Vascular Initiative. The overall goal of the initiative is to elevate the level of heart and vascular care to the residents of deep East Texas by offering skills training specifically designed for the Memorial physicians and staff and educating the public about prevention of heart and vascular disease.
Funded by the T.L.L. Temple Foundation, the Heart & Vascular Initiative follows Memorial's highly successful Stroke Initiative, which is still in progress. The Heart & Vascular Initiative was originally presented to the T.L.L. Temple Foundation in November 2011 and was approved for funding in February 2012. The initiative will be funded with a $3.5 million grant for the next three years.
At the program's core, the Methodist DeBakey Heart & Vascular Center will provide cutting-edge skills training and education designed specifically for heart and vascular professionals at Memorial. Memorial will also have unlimited access to MDHVC specialists and resources through a 24-hour direct referral line with remote viewing and conference capabilities. This will allow MDHVC professionals to assist Memorial providers in locally treating challenging cases. Clinical staffs in both hospitals will work side by side to bring the latest, most advanced training to the East Texas region. Memorial physicians will also have access to MDHVC's extensive symposia and conferences.
In creating a center of excellence, Dr. David Ladden, a cardiac, thoracic and vascular surgeon joined Memorial in September 2011. Dr. Ladden brings with him extensive experience in minimally invasive surgeries with outstanding results. EVAR, or Endovascular Aneurysm Repair, indicated for Abdominal Aortic Aneurysm and TEVAR, or Thoracic Endovascular Aneurysm Repair, indicated for Aortic Dissection are new and exciting procedures that Memorial is beginning to offer. The endovascular procedure for varicose veins, an area seeing explosive growth in terms of demand, especially among women, is in place and fully functioning at Memorial, thanks to Dr. Ladden and the Heart & Vascular Initiative.
In addition to intensive training and education for Memorial professionals, the Heart & Vascular Initiative will provide extensive community outreach and heart and vascular disease education to local population. Due to the high numbers of those in poor health from the local community, a full-time educator will join the Memorial staff to educate and provide valuable information to the public in order to increase awareness and teach prevention strategies for heart and vascular disease.
The new Critical Care Educator at Memorial – a position created and funded by the initiative – will also develop core nursing competencies to reinforce learning and skill enhancement, coordinate training, and be responsible for the development of annual education programs for Memorial's clinical staff.
Through the help of MDHVC, Memorial will seek numerous nationally recognized certifications for the Vascular Lab, Chest Pain Center and the Heart Failure/Acute Coronary Syndrome program. By the end of this month, Memorial will be fully prepared to seek an accreditation from the Society of Chest Pain Centers, an international not-for-profit organization committed to leading the fight to eliminate heart disease as the number one cause of death worldwide.
Once achieved, Memorial will be the only institution within an 80-mile radius to hold these multiple, advanced certifications.
 
Publish date:
Wednesday, July 11, 2012
Find a Doctor
---
Looking for a doctor? Perform a quick search by name or browse by specialty.