Memorial Claims National Healthcare Marketing Award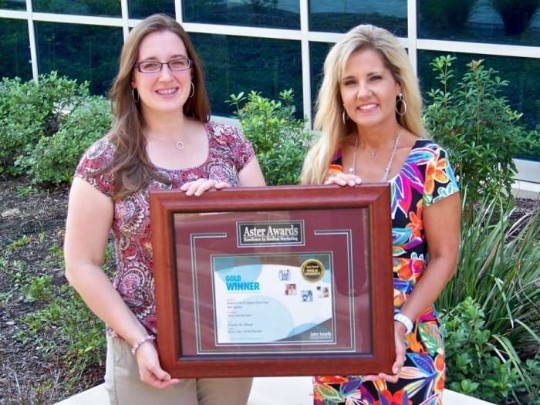 Marketing Efforts Featured in National Publication - The winners of the National Aster Awards for Excellence in Medical Marketing have been announced and for the first time a local hospital is on the list of recipients.  Memorial Health System of East Texas is the winner of two gold marketing awards - Best Cardiology Marketing Campaign among hospitals with 150-299 beds and Best Special Event for the Dr. Bill Shelton Totally Awesome Fishing Adventure. 
The Aster Awards, one of the largest national competitions of its kind, is hosted by Marketing Healthcare Today Magazine and Creative Images, Inc. This elite program recognizes outstanding healthcare professionals for excellence in their advertising/marketing efforts for the calendar year 2009.
Memorial's winning cardiology campaign, "Stories from the Heart," showcase local patients who have successfully undergone cardiovascular procedures, such as Coronary Artery Bypass Grafting (CABG), Lobectomy, and Triple Bypass surgeries.  The campaign, created by Memorial's Director of Marketing and Public Relations, Yana Ogletree, utilizes newsprint, outdoor boards, Web, and display boards within the new Cardiovascular & Stroke Center.  
Lindsey Mott, Community Relations Specialist at Memorial, and The Dr. Bill Shelton Totally Awesome Fishing Adventure also took home gold in the foundation/fund raising category.  The event, which raises money for indigent cancer patients in East Texas, is celebrating 17 years of success—raising more than $100,000 for patients in need of medication, lodging and even gas to get to the center for treatment.
"It was an honor to have Memorial Health System of East Texas participate in the 2010 Aster Awards Competition.  They placed in the top 5 % in the nation.  The quality of this year's entries went well beyond the judges' expectations," said Melinda R. Lucas, Aster Awards Program Coordinator.
The 2010 Aster Awards received approximately 3,000 entries from across the United States as well as Canada and South America.  Participant's entries competed against similar-sized organizations in their category.  Entries must score at least in the top 85% to receive an award.  Judging criteria includes creativity, layout and design, functionality, message effectiveness, production quality and overall appeal.
All winners are posted on the Aster Awards website (www.AsterAwards.com), as well as published in Marketing Healthcare Today, a national healthcare marketing magazine.  Additionally, one of Memorial's "Stories from the Heart" cardiology outdoor boards is featured in the national publication.
Publish date:
Wednesday, August 18, 2010
Find a Doctor
---
Looking for a doctor? Perform a quick search by name or browse by specialty.