Memorial Clinics in San Augustine Administered 700 Flu Shots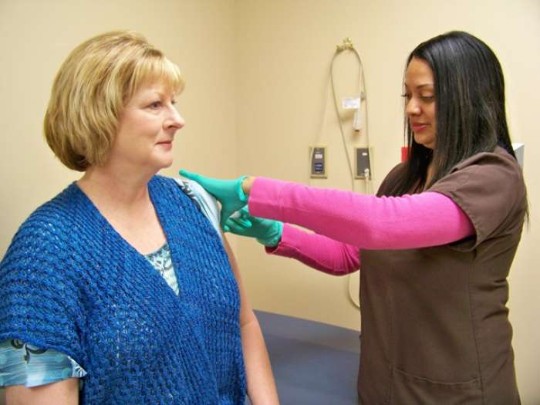 As the 2012-2013 flu season rages on, the number of flu cases continues to rise across the nation. In San Augustine, only a few vaccines remain, and Dr. Jeffrey Alan Watson, a Board Certified Family Practitioner, and Family Nurse Practitioners Christina Miller-Watson and Janice Napier credit the local population with being proactive and receiving their flu shots.
Watson and Miller-Watson of The San Augustine Family Practice, located at 200 E. Livingston Street, ordered more than 400 flu shots to administer this year and only a few remain. The Haley Family Clinic, 109 East Main Street, administered all of the 300 flu shots Napier ordered.
"Getting a flu vaccine is the first and most important step in protecting against this serious disease," Watson said. "No one likes to be sick, and the flu can be extremely harmful. We are proud of our patients in the San Augustine community who took their health seriously and got their vaccinations."
The CDC recommends that everyone who is at least 6 months of age receive a flu shot. People who are especially vulnerable to influenza include those with asthma, diabetes and chronic lung disease, pregnant women and people 65 years and older. Caregivers can also be at a high risk for catching the flu.
The Centers for Disease Control and Prevention has said that this year's flu season is expected to be one of the worst the country has seen in 10 years.
Flu symptoms include:
• Fever (100°F or greater)
• Muscle aches
• Chills
• Extreme fatigue
• Headache
• Sore throat
• Runny or stuffy nose
• Chest discomfort or cough
For more information about the flu or to schedule an appointment, please call the San Augustine Family Practice at (936) 275-9910 or the Haley Family Clinic at (936) 275-5999. The San Augustine Family Practice is located at 200 E. Livingston Street and the Haley Family Clinic is located at 109 East Main Street.
Publish date:
Monday, February 04, 2013
Find a Doctor
---
Looking for a doctor? Perform a quick search by name or browse by specialty.