Memorial Clinics Welcomes Angelina Internal Medicine Associates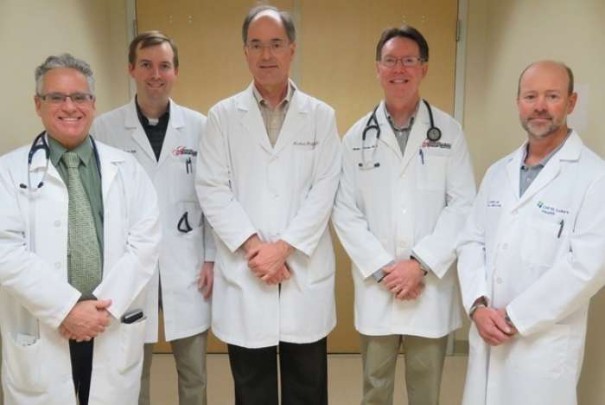 St. Luke's Health-Memorial aims to increase access points to quality health care by growing its primary care practice and welcoming new physicians to the team. Memorial Clinics, a division of the hospital, announces a new partnership with Angelina Internal Medicine associates Sean Moran, M.D.; Michael Huber, M.D.; Morris Mickelson, M.D.; Richard Roby, M.D.; and Kevin Dixon, D.O. Serving the Angelina County community for more than 30 years, the team of Internal Medicine physicians brings a wealth of knowledge, skill and compassion. The partnership went into effect on December 1.
"We are grateful to include these upstanding men in our growing practice," said Monte Bostwick, St. Luke's Health-Memorial CEO. "Angelina Internal Medicine has an exemplary reputation in our community for providing superior care – and that's what we want to provide for our patients."
Current patients will not see any change in care or coverage, and the physicians will stay in their current location at 1111 W. Frank Avenue, Suite 100, inside the St. Luke's Health-Memorial Cardwell Professional Building.   Angelina Internal Medicine will retain its name and its staff has become St. Luke's Health-Memorial employees.
"The association of Angelina Internal Medicine with Memorial Clinics brings a highly efficient, high quality, patient centered group of physicians and staff dedicated to improving the health of their patients and community.  We are excited to partner with these exceptional physicians," said David Glenn, M.D., Memorial Clinics President and Chief Medical Officer.
St. Luke's Health Memorial Clinics, a division of St. Luke's Health, partners with and employs more than 40 providers in 17 locations across East Texas, including Lufkin, Livingston and San Augustine. The team of physicians pride themselves on delivering exceptional health care via the latest in technology and patient comfort. Memorial Clinics specialties include Internal Medicine, Cardiology, Physical Medicine & Rehabilitation, Cardiovascular & Thoracic Surgery, Obstetrics and Gynecology, Family Practice, Ear, Nose & Throat and Chiropractic care. Memorial Clinics accepts Medicare, Medicaid and most private insurance. Visit memorialclinics.com to learn more about our physicians and connect with the personalized patient portal. 
Publish date:
Monday, December 12, 2016
Find a Doctor
---
Looking for a doctor? Perform a quick search by name or browse by specialty.