Memorial Earns Women's Choice Award for Region's Best Hospital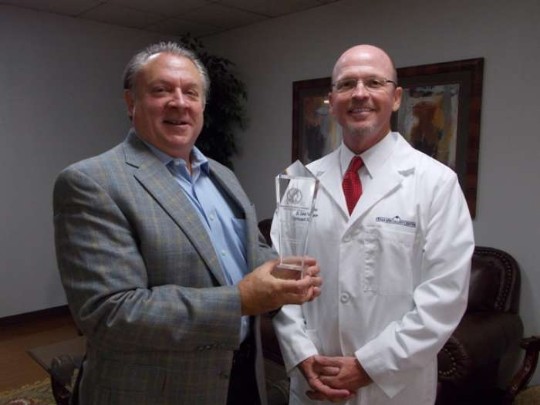 Memorial Medical Center-Lufkin has been chosen as the "Best Hospital in the Region" and has been awarded the Women's Choice Award® from WomenCertified. This award is based on patient experience in the Angelina and Nacogdoches counties area. To receive the award, Memorial had to meet a robust criterion that considers female patient satisfaction and what women want from a hospital, including quality physician communications, responsiveness of nurses and support staff, cleanliness and trusted referrals from other women.
WomenCertified awards products and services based on the collective recommendations of women and serves to empower women to make smart healthcare choices.
"As a two-year recipient of this prestigious award, we are honored that the majority of the female population prefers Memorial for their health care needs," Memorial President and CEO Gary Looper said. "It is our goal to exceed the expectations of all of our patients, and we know women tend to be the decision makers when it comes to the care of their families. This award signifies our community's recognition of our commitment to quality."
Women make 90 percent of health care decisions for themselves and their families, according to a study published by the American Academy of Family Physicians. And more than 91 percent of women feel like marketers and businesses don't understand them.
"We provide women with a trusted third party endorsement based on hospital experiences by women in their community.  As the Region's Best Hospital for Patient Experience, Memorial Medical Center-Lufkin meets the toughest standards of excellence set by women" states Delia Passi, CEO and founder of WomenCertified, and former publisher of Working Woman and Working Mother magazines. "Women have many choices when it comes to healthcare.  Now they can make informed choices based on the recommendations of women who have experienced that hospital.  Most importantly, when a woman sees the Women's Choice Award at her local hospital, she'll know the hospital values her experience as a critical component of care for her and her loved ones."
Hospitals qualify for this award based on an objective proprietary scoring process. The scoring incorporates a national, standardized survey of patients' perspectives of hospital care reported by the U.S. Department of Health and Human Services (Hospital Consumer Assessment of Healthcare Providers and Systems) and an analysis that weighs criteria identified as the most important to women for patient satisfaction. Additionally, the scoring incorporates WomenCertified's in-depth research on customer satisfaction among women, including a joint study on customer satisfaction by gender conducted with the Wharton School of the University of Pennsylvania.
Publish date:
Monday, August 19, 2013
Find a Doctor
---
Looking for a doctor? Perform a quick search by name or browse by specialty.