Memorial Health System of East Texas Auxiliary Awards 12 Scholarships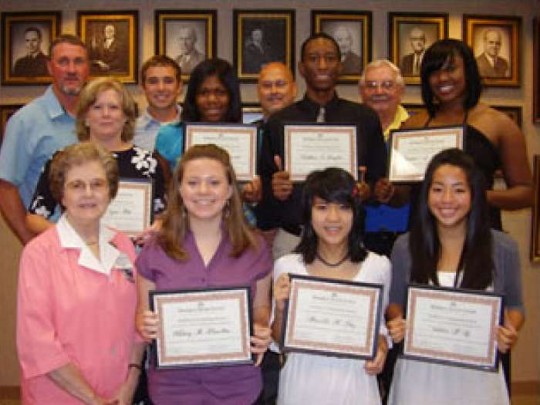 The Volunteer Auxiliary at Memorial Health System of East Texas is well-known for its volunteer efforts throughout the hospital from greeting patients and guests to answering the hospital's phone and escorting patients to treatment areas. But perhaps it is the popcorn that is synonymous with this volunteer group.
Each day the volunteers cook popcorn and sell it to hospital patrons for 75 cents a bag. The volunteers' goal? To raise money for 12 academic scholarships each year for graduating high school seniors in Angelina County. This year was no exception as the Volunteer Auxiliary awarded a total of $12,000 in scholarship money to 12 students seeking health care careers. 
Recently, the Volunteer Auxiliary hosted a reception at Memorial Health System of East Texas for the scholarship recipients. According to Volunteer Auxiliary Chairperson Don Newland, the 12 students were selected from dozens of applicants. "We are extremely proud of these students, and are very excited to know that they are pursuing a career in health care." Those receiving a scholarship from the Memorial Auxiliary must be pursuing or planning to pursue a degree in the healthcare field (i.e. radiology technology, nursing, medical doctor, pharmacy technology, speech pathology, etc.). Recipients must also have received excellent grades during high school and/or college. Students can apply each April and may be eligible for the scholarship for up to four continuous years. At the beginning of each year, current recipients are notified that it is time to reapply for the scholarship.
The volunteers began cooking popcorn for academic scholarships in 1987. That year two academic scholarships were awarded. Since 1987, 245 students have received scholarships from the Memorial Auxiliary totally $228,750.
Publish date:
Saturday, January 16, 2010
Find a Doctor
---
Looking for a doctor? Perform a quick search by name or browse by specialty.