Memorial Health System of East Texas Receives MRI and CT Accreditation at Two Facilities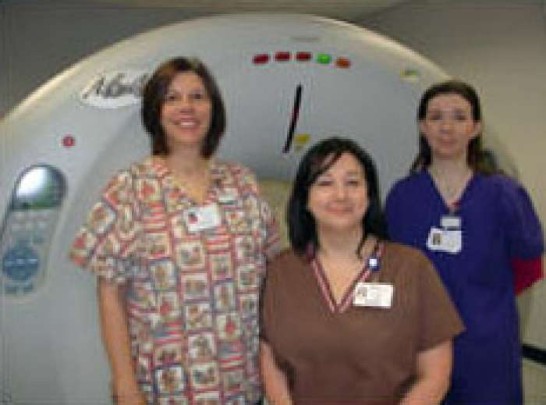 Memorial Health System of East Texas and Temple Imaging Center recently received a three-year term of accreditation in Magnetic Resonance Imaging (MRI) and Computed Tomography (CT) resulting from a survey by the American College of Radiology (ACR).
"Receiving MRI and CT accreditation raises the bar on Memorial Health System of East Texas' commitment to providing high-quality, patient-centered care," said Bill Malnar, Director of Imaging Services for Memorial Health System of East Texas. "This designation also reflects Memorial Health System of East Texas' mission of providing quality healthcare to the communities we serve."
The American College of Radiology, headquartered in Reston, VA, awards accreditation to facilities for the achievement of high practice standards after a peer-review evaluation of the practice. Evaluations are conducted by board-certified physicians and medical physicists who are experts in the field. They assess the qualification of the personnel and the adequacy of facility equipment. The surveyors report their findings to the ACR's Committee on Accreditation, which subsequently provides the practice with a comprehensive report.
Magnetic Resonance Imaging is a noninvasive procedure that takes pictures of the body's interior without using X-rays or other types of ionizing radiation. Instead, this diagnostic tool uses a powerful magnet combined with radio waves to construct detailed images of various tissues inside a person's body. MRI is a valuable tool to diagnose conditions in the body including cancer, heart and vascular disease, stroke, breast disease, and joint and musculoskeletal disorders. Physicians use MRI scans to define anatomy and evaluate abnormalities related to head trauma, brain aneurysms and tumors, spinal cord trauma, glands and organs within the abdomen, and the structure of joints, soft tissues and bones.
While Computed Tomography uses X-ray technology, it is distinguished from other diagnostic imaging tools like traditional X-ray and MRI by its ability to display a combination of soft tissue (like muscles, tissue, organs and fat), bones and blood vessels all in a single image. Clinicians perform CT scans to diagnose kidney, lung, liver, spine, blood diseases, cancer, tumors and cysts, as well as blood clots,hemorrhages and infections.
As a nationally accredited facility, Memorial Health System of East Texas and Temple Imaging Center deliver quality care with the most technologically advanced equipment.
Publish date:
Wednesday, February 04, 2009
Find a Doctor
---
Looking for a doctor? Perform a quick search by name or browse by specialty.