Memorial & Heart Institute Offer Patient-Focused Cardiac Rehabilitation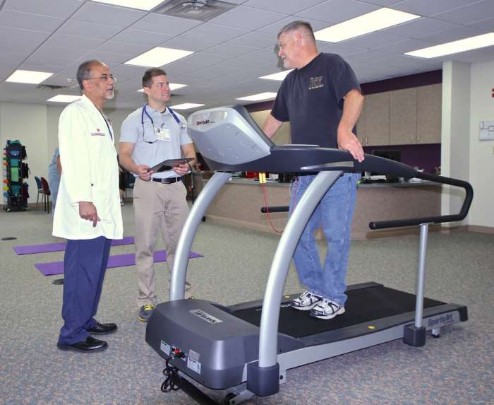 Following a cardiovascular event – such as a heart attack, balloon angioplasty, or even heart surgery, patients often need specifically designed rehabilitation to significantly improve cardiac health. With that in mind, Memorial Health System of East Texas, in conjunction with The Heart Institute of East Texas, will open the new Memorial Cardiac Rehabilitation Center.
The Cardiac Rehabilitation Unit is conveniently located at 312 Gaslight Blvd on the second floor above the Memorial Heart and Vascular Imaging Center.
The Cardiac Rehabilitation team, led by Medical Director Ravinder Bachireddy M.D., FACC, consists of an on-site Supervising Cardiologist, Registered Nurse, a Registered Clinical Exercise Physiologist, and other healthcare professionals.
"Our team focuses on research-centered patient-specific care designed to prepare each patient to successfully return to his or her daily activities," said Dr. Bachireddy, President of The Heart Institute of East Texas. "The professional staff of Memorial Cardiac Rehabilitation will provide each patient with multiple assessments -- specific exercise prescription, risk factor assessment, nutritional assessment and lifestyle modification to promote cardiovascular health and individual wellbeing."
 "Structured Cardiac Rehabilitation exercise can provide numerous benefits for the general health of any individual, but has greater impact when cardiovascular conditions are present," Dr. Bachireddy said.
Research indicates that patients who undergo cardiac rehabilitation have 25-30% reduction in heart attacks and strokes.  Cardiac rehabilitation helps patients to lose weight, achieve better control of hypertension, diabetes mellitus, and high cholesterol and quit smoking.
The individualized cardiac rehabilitation program typically lasts between 6-12 weeks and consists of 2-3 exercise and/or education sessions per week. The team uses a multidisciplinary approach to meet the needs of each patient, including continuous heart and hemodynamic monitoring to ensure healthy progression and cardiovascular wellness.
For more information, contact the Memorial Cardiac Rehabilitation Center at (936) 634-8840 or the Heart Institute at (936) 632-8787.
Publish date:
Thursday, May 29, 2014
Find a Doctor
---
Looking for a doctor? Perform a quick search by name or browse by specialty.