Memorial Medical Center-Livingston Adds Nuclear Medicine System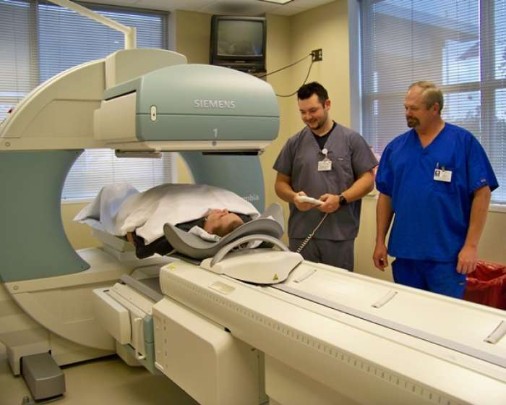 Memorial Medical Center—Livingston introduces the latest in imaging technology that is designed to detect the early stages of many life-threatening diseases.  Memorial is one of the first centers in Texas to obtain the Symbia® S Nuclear Medicine system, which allows for early detection and staging of cancer, heart disease and other hard-to-diagnose disorders. In Livingston, the new technology will specifically aid in vascular studies.
This innovative system performs a variety of single photon emission computed tomography (SPECT) imaging tasks and is designed to perform a variety of nuclear medicine procedures. Its high definition digital detectors offer exceptional imaging performance and expanded clinical capabilities.
The open design enhances comfort for a variety of patients including pediatric, geriatric, and bariatric patients.  It also enables technologists to perform highly accurate organ and tissue-specific studies while accommodating stretchers and wheelchairs.
"This is a state-of-the-art system offering higher resolution studies and substantially reduced imaging time," Dr. William Avery, DO. "This is a large bore camera allowing imaging of larger patients in greater comfort and is part of our new emphasis on cardiac imaging. We will begin new nuclear medicine heart imaging studies, including both exercise and pharmacologic stress tests, with the use of this new equipment."
Unlike the more commonly heard of X-ray or Magnetic Resonance Imaging (MRI), technologies that provide structural or anatomical information, nuclear medicine detects activity on a molecular level. Senior Nuclear Medicine Technician Koury Snider, RT (R,N) CNMT said with the new technology, the Memorial imaging department can process the images in less time with minimal discomfort to the patients.
"There are high-definition detectors on the top and the bottom of the patient, so we can get a 360 degree 3-D image of the patient," Snider said. "With our other equipment, it took about an hour and a half of the patient lying on the table, waiting for the nuclear medicine camera to finish. Now the process takes only 30 to 45 minutes and the image is much clearer."
Images taken with the nuclear medicine camera can also be digitally integrated with anatomical images from CT scans. Physicians can then manipulate the images for the best all-around view of the patient.
"With its unique combination of image quality, patient versatility and exceptional functionality, we expect our new nuclear imaging system to significantly reduce examination time and costs while improving patient outcomes," Memorial Medical Center-Livingston Administrator David LeMonte said.
Patients unable to ingest the necessary iodine for CT scans – such as those with pulmonary embolisms – can instead opt for the nuclear medicine images.
During the process, patients are injected with a small amount of a targeted radioisotope based on the clinical need. Once injected, the isotope is attracted to a specific organ or region of the body, highlighting the area of concern. Because of this, a nuclear medicine scan can detect diseases before they are progressed enough to be identified by other means. Early detection is the key to prevention.
Expanding the diagnostic capabilities with the addition of the Symbia® S nuclear medicine camera will enable Memorial Medical Center-Livingston to offer high-quality services and deliver cost-effective care to area patients.
Senior Nuclear Medicine Technician Koury Snider, RT (R,N) CNMT and Director of Radiolory, Cardiopulmonary and Cardiac Monitoring Doug Wilder demonstrate how the state-of-the-art nuclear medicine imaging system adapts to virtually every patient in less time and with a clearer image of how the organs function.
Publish date:
Wednesday, January 11, 2012
Find a Doctor
---
Looking for a doctor? Perform a quick search by name or browse by specialty.