Memorial Medical Center-Livingston adds state-of-the-art C-Arm machine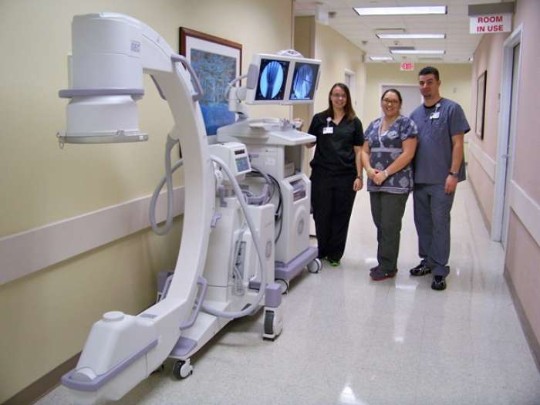 In its continued commitment to providing the best in quality care to Polk County and the surrounding communities, Memorial Medical Center-Livingston added another state-of-the-art piece of imaging equipment – this time in the operating room.
The GE OEC 9900 Elite C-Arm machine provides real time imaging in the operating room whether for general, orthopedic, vascular or cardiac procedures. The open concept machine encircles the patient during surgery, and continuously provides internal images to enhance visualization for the physician. Additionally, its sleek design offers flexibility for the surgeon and technicians to move around the patient more easily in Livingston's OR facility. Detachable monitors with super high quality allow the staff access to the near perfect images from several vantage points in the operating room. The system also uses half the traditional dose of radiation exposure, while assuring a better quality image the first time.
The digitally integrated machine includes wireless Internet capabilities so images can be sent directly to the hospital's computerized filing system, in which the images are stored more securely than traditional paper files.
The mobile imaging equipment is 7 inches deeper than Livingston's previous C-Arm machine, which allows technicians to set the device around bariatric patients.
"The clarity this machine provides is unbelievable," Memorial Medical Center-Livingston Administrator David LeMonte said. "The new C-Arm is providing our surgeons a clearer internal image, while lowering radiation exposure for our patients. It's a win-win situation, and we're proud to have such a cutting edge machine right at our fingertips here in Livingston."
In the past year, Memorial has spent millions of dollars updating and adding to its Imaging Department in Livingston, including a 128-Slice CT Scan, Nuclear Medicine camera, 4D Ultrasound machine and Cardiac Echo machine.
Publish date:
Wednesday, November 07, 2012
Find a Doctor
---
Looking for a doctor? Perform a quick search by name or browse by specialty.