Memorial Medical Center-Livingston Board Chairman Steps Down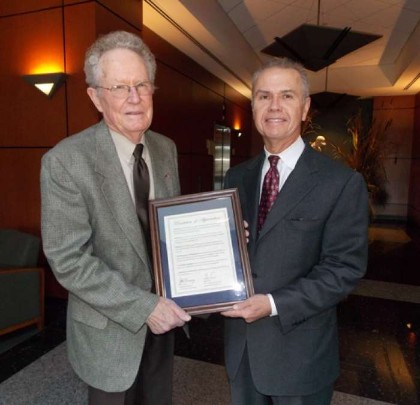 After serving as the Memorial Medical Center-Livingston Board of Directors chairman since 1994, H.E. Striedel announced he will step down from the top position. Striedel, however, will continue to serve as a member on the board, as he has done for a collection of 29 years.
Striedel, the former Sam Houston Electric Cooperative CEO, first served on the county hospital's board in 1975 after moving to Polk County. He served for a total of eight years before stepping down in 1983.
"At that time, we only had four doctors here," Striedel said. "We were concerned about indigent health care, and we thought the people we served electricity to should have quality health care."
He returned to the county hospital's Board of Directors in 1991. When the Livingston hospital became part of the Memorial system in 1994, Striedel became chairman – a position he has held ever since. As part of his chairman responsibilities, Striedel also served on the Memorial Health System of East Texas Board of Directors as required by the Livingston chairman. He will relinquish that role this year.
"Helping people really has been the best part of serving on this board," Striedel said.
Striedel was honored as the 2011 Polk Countian of the Year, presented by the Livingston-Polk County Chamber of Commerce, due to his leadership in both the health care and electricity industries.
Publish date:
Monday, January 07, 2013
Find a Doctor
---
Looking for a doctor? Perform a quick search by name or browse by specialty.