Memorial Medical Center-Livingston Celebrates Radiologic Technology Week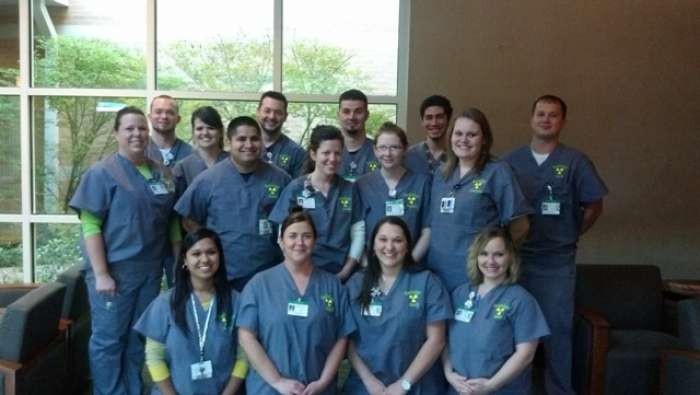 Working with some of the most innovative equipment in the medical field, Radiologic Technologists help identify pathologies, plan and administer treatment and restore patient health.  Memorial Medical Center-Livingston recently recognized these technologists who specialize in breast imaging, computed tomography (CT), cardiac-interventional procedures, magnetic resonance imaging (MRI), nuclear medicine, ultrasound, radiation therapy and general diagnostic radiology during National Radiologic Technologists Week. 
Cutline:  Among those being recognized were front row from left to right, Betty Lopez, Angelle Hannah, Becky Dunn, and Helen Crookes. Middle row, Melissa Wright, Emilio Ochoa, Mandi Stockton, Amanda Colvin and Christina Boaen. Back row, Jordan Loftin, April Bushue, Koury Snider, Jason Smitherman, Michael Smith and Jason Minchew. Not pictured, Robert Davis, Yazmanny Llanes, Anthony Freese, Rafael Heredia, Jennifer Gregston, Dax Wagner, Craig Eaves, Christian Laviolette, Angela Herchman, Jo Ann Clafferty, Patricia Patrick, Dr. Richard Avery, Dr. William Avery and Dr. Hai Dang.
Publish date:
Monday, November 19, 2012
Find a Doctor
---
Looking for a doctor? Perform a quick search by name or browse by specialty.