Memorial Medical Center - Livingston Employees Fight Flu with Vaccine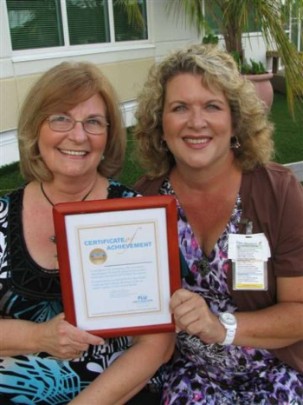 The challenge was to raise the bar and achieve 75 percent staff seasonal flu vaccination.  Memorial Medical Center – Livingston reached this goal and was recently recognized with a Flu Vaccination Challenge Bronze Award by Joint Commission Resources.  This award recognizes the achievement of a flu vaccination rate between 75 to 84 percent among employees during the 2010-2011 flu season.
The Flu Vaccination Challenge was launched by Joint Commission Resources (JCR) 3 years ago to underscore the responsibility that hospitals have to help keep their employees and patients healthy during flu season.  When the challenge began in September 2008, the goal was to have hospitals achieve a 43 percent or more rate of staff vaccination, which was greater than the 42 percent national health care worker flu vaccination average at the time.  Over the past two years that goal has been raised to this year's 75 percent.
"We decided that this year we would take the vaccine to our employees," said Terri Purvis, RN, Director of Quality Management at Memorial Medical Center – Livingston.  "This included going to the units for the nurses and having 'pay day flu shot days,' where the employees were given the opportunity to receive their vaccination when they picked up their checks."  Ms. Purvis also stressed that time was spent on educating employees on the benefits of flu vaccination and stressing the importance of keeping patients and fellow employees safe by getting vaccinated.
According to the Centers for Disease Control (CDC), the flu is a contagious respiratory illness caused by influenza viruses.  Most experts believe that flu viruses spread mainly by droplets made when people with flu cough, sneeze or talk. These droplets can land in the mouths or noses of people who are nearby.  Every year in the U.S., on average, up to 20 percent of the population is infected with the flu.  On average, more than 200,000 hospitalizations occurred each year from 1979 to 2001 as a result of flu and its complications.
Publish date:
Monday, July 11, 2011
Find a Doctor
---
Looking for a doctor? Perform a quick search by name or browse by specialty.