Memorial Medical Center-Livingston enhances its emergency care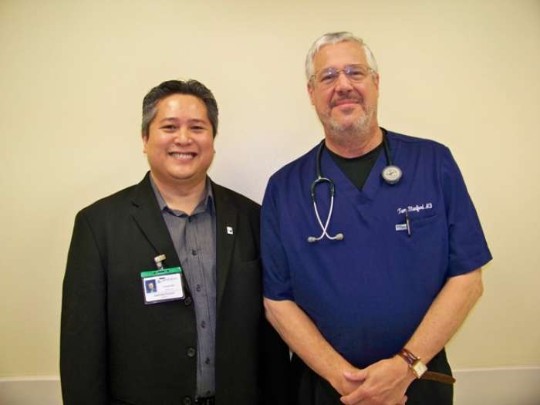 Memorial Medical Center-Livingston welcomes two new additions to its Critical Care departments – Emergency Department Medical Director Dr. Thomas Stanford and Director of Critical Care Jonathan Talaguit.
Dr. Stanford brings nearly three decades of experience to Livingston. Most recently, he was the medical director of a Level 3 Trauma Center in Mt. Pleasant, Texas. His career started in Internal Medicine and Critical Care, where he worked for ten years. In 1995, he began working in the Emergency Department, and said that's where he has been ever since.
"Here in Livingston, we are re-designing how patients are seen in the Emergency Room," Dr. Stanford said. "We are shortening wait times and lengths of stay. We want to continue to improve upon the quality and performance already offered here in Livingston."
Dr. Stanford attended medical school at the University of Mississippi. During his residency at the University of Tennessee, he was Chief Resident at Baptist Hospital.
He resides in Livingston with his wife Carolyn, a nurse practitioner working on her doctorate.
For the past 20 years, Talaguit moved up the ranks at Parkland Hospital to most currently serving as a unit manager in acute care. During his tenure at Parkland Hospital, Talaguit worked in many facets of the health care industry including a nurse for 16 years in the ICU and as a Pharmacy Technician.
In Livingston, Talaguit plans to enhance the overall atmosphere of the critical care departments – both in the Emergency Department and the Intensive Care Unit.
"Our goal is to win the community's trust and to show them we really are their best option when it comes to critical care," Talaguit said. "We want to continue enhancing our standards regarding risk assessment and patient care – that is our commitment to our community."
Talaguit earned his Associate's Degree in Nursing from Dallas County Community College and he will graduate in December from the University of Texas at Arlington with his Bachelor of Science in Nursing degree.
Talaguit resides in Livingston. His wife, Shirley, who also worked at Parkland Hospital, will be joining him soon.
"These men bring a wealth of knowledge when it comes to emergency care, and we are so fortunate to have them here in Polk County," Memorial Medical Center-Livingston Administrator David LeMonte said. "Jonathan and Dr. Stanford are working together to make our Emergency Department and ICU one cohesive unit in order to treat our patients in the most efficient way possible."
Earlier this year, Memorial Medical Center-Livingston received the Texas Health Care Quality Improvement Award for enhancing the quality of care given to patients suffering from some of the most common and serious health conditions that affect adults.
Publish date:
Thursday, November 01, 2012
Find a Doctor
---
Looking for a doctor? Perform a quick search by name or browse by specialty.