Memorial Medical Center-Livingston Experiences Baby Boom in 2013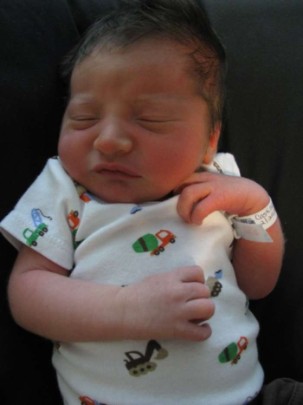 The sounds of newborn coos and cries amplified as Memorial Medical Center-Livingston experienced a record breaking baby boom in 2013.
In all, 452 babies were delivered at Wilma Ogletree Women's Center in 2013 – more than any other year in the hospital's history, according to Memorial Health System of East Texas Director of Women's Services Ashley Martin.
The last record was set in 2010 when the staff delivered 365 little boys and girls.
With an average of 8 babies born each week, Martin said the staff began to see an upward trend starting in August. September was the first record breaking month with 54 deliveries.
"Dr. Mary Garnepudi, an Obstetrician and Gynecologist, joined Memorial Clinics this past summer and helped contribute to the rise of births here," Martin said. "She had an established practice in San Jacinto and Liberty Counties, and those patients chose to deliver at Memorial. In addition, Dr. Verner Nellsch, who has practiced at Memorial for many years, also delivers a significant number of babies each month."
Dr. Adeola Atilade began her OBGYN practice at Memorial Clinics in January 2014, which the staff believes also will contribute to the steady increase of new birthdays celebrated at Memorial.
"Having a newborn baby is one of the most exciting times in a person's life, and we love being a part of that experience," Memorial Medical Center-Livingston CEO Randy Slack said. "Residents in our community and the surrounding areas know they can turn to Memorial for quality healthcare and an overall pleasant experience."
The highly trained staff in the Women's Center includes five nurses certified in inpatient obstetrics through the National Certification Corporation, Martin said. The NCC is a not for profit organization that provides a national credentialing program for nurses, physicians and other licensed health care personnel in the obstetric, gynecologic, and neonatal nursing specialties.
The Wilma Ogletree Women's Center was built in 2000 and recently underwent a cosmetic remodel. The Center is located on the second floor of Memorial Medical Center-Livingston.
To help prepare patients for childbirth, Memorial Medical Center-Livingston provides free classes to anyone anticipating a new arrival. Visit memorialhealth.org and look at the Calendar of Events for more information about the time, date and location of the 4-part sessions. This class is generally taken during the sixth or seventh month of gestation and includes exercises in relaxation techniques, labor coping and support techniques. For more information, call (936) 329-8249.
Publish date:
Friday, January 31, 2014
Find a Doctor
---
Looking for a doctor? Perform a quick search by name or browse by specialty.