Memorial Medical Center-Livingston introduces new 4D ultrasound system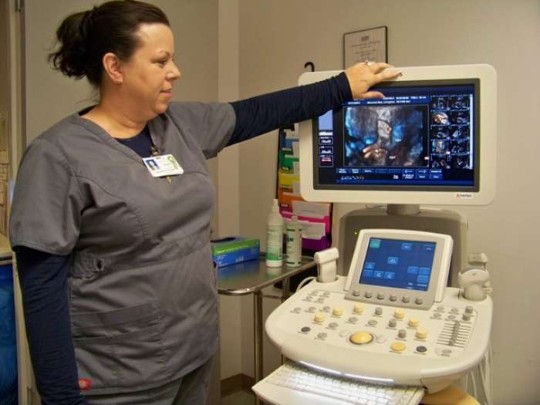 The highlight for most expecting parents is seeing their unborn child for the first time. Memorial Medical Center-Livingston's recent purchase of a revolutionary four-dimensional ultrasound system starts parents on the right track as they begin their journey through parenthood.
Because it can be used in the most delicate conditions without major side effects, ultrasound has become one of the most popular diagnostic methods among both patients and physicians.
Ultrasound uses high-frequency sound waves to produce moving images of the body's internal soft tissue structures leading to numerous medical benefits. Memorial's state-of-the-art iU22 Philips xMATRIX ultrasound system provides images in both 3D and 4D. It is a safe, fast and relatively painless means of diagnostic imaging on an outpatient basis.
By utilizing the machine's 4D capabilities, parents of unborn fetuses can see their child as it winks, blinks and smiles in real time.
The state-of-the-art imaging system assists in diagnosing gynecological issues by allowing physicians the capability to study the uterine cavity, the fallopian tubes and the ovaries in detail. It also assists in the detection of ectopic pregnancies, ovarian cysts and endometrial polyps. The 3D and 4D capabilities allow for enhanced breast imaging and elastography, a non-invasive method of detecting tumors
Early clinical use by physicians indicates that the new intelligent ultrasound system has the potential to:
• Make ultrasound exams much faster
• Help patients and their physicians visualize and discuss the superb images
• Identify the nature of suspicious lesions sooner utilizing the power of xMATRIX technology
• Enhance diagnostic capability, potentially reducing or eliminating the need for more expensive or invasive tests and procedures
• Provide clearer ultrasound images, especially in difficult-to-image patients
• Guide catheters and needles in 3D space without radiation exposure

"The iU22 xMATRIX ultrasound system demonstrates Memorial Medical Center-Livingston's dedication to the latest innovative ultrasound solutions by providing new ways of caring for patients and pushing the boundaries of image quality, workflow and ease of use," said Administrator David LeMonte. "Ultrasound imaging is hugely beneficial because it is a relatively low-cost and non-invasive way to look inside the body. With the new Philips system, we are acquiring an extremely high level of diagnostic information and can provide answers for our patients more quickly and easily."
Memorial Livingston's ultrasound department is accredited by the American College of Radiology.
Publish date:
Wednesday, September 19, 2012
Find a Doctor
---
Looking for a doctor? Perform a quick search by name or browse by specialty.