Memorial Medical Center-Livingston Lab receives worldwide accreditation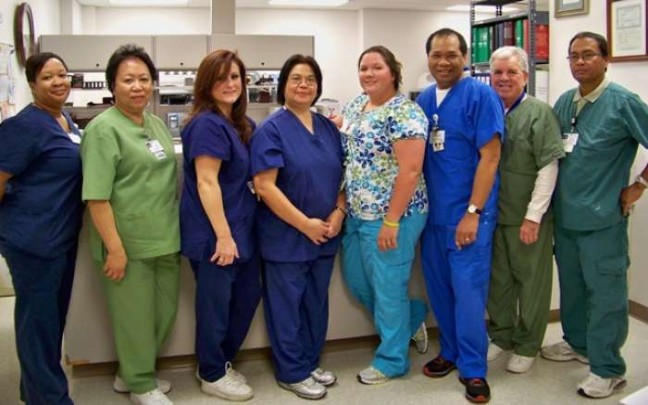 Memorial Medical Center-Livingston Laboratory once again met all applicable standards for accreditation through the College of American Pathologists' Laboratory Accreditation Program.
The Laboratory Accreditation Program is an internationally recognized program which includes complex university medical centers to physician office laboratories. It is designed to go well beyond regulatory compliance, and the program provides a solid foundation for excellence and quality practices in medical laboratories.
Under the direction of Dr. David L. Todd, the Livingston laboratory is only one of 7,000 CAP accredited facilities worldwide. The lab has been accredited since 2005 through the CAP program.
During the accreditation process, inspectors examine the laboratory's records and quality control procedures for the past two years. During an onsite investigation, CAP inspectors also examine laboratory staff qualifications, equipment, facilities, safety programs and records and overall management to assess the quality of the laboratory. The standards set by CAP are translated into detailed checklist requirements that the lab must follow. The checklists, which are specific to individual laboratories, constantly evolve to reflect changes in technology requiring continuous compliance.
"At Memorial, we hold our staff to the highest standards possible, and worldwide organizations are taking notice," said David LeMonte, administrator at Memorial Medical Center-Livingston. "Dr. Todd and his staff have achieved a level of excellence that most hospitals in the world have yet to achieve."
The College of American Pathologists is celebrating 50 years as the gold standard in laboratory accreditation. The medical society serves 18,000 physicians and is the world's largest association composed exclusively of board-certified pathologists. CAP advocates excellence in the practice of pathology and laboratory medicine worldwide.
The U.S. federal government recognizes the CAP Laboratory Accreditation Program, which began in the early 1960s, as being equal to or more stringent than the government's own inspection program.
During the next two years, CAP will assist Memorial's lab in maintaining compliance. Next year, the lab will perform a self-inspection to ensure continued, optimum performance. The Memorial lab will seek accreditation again in April 2014.
Publish date:
Thursday, August 23, 2012
Find a Doctor
---
Looking for a doctor? Perform a quick search by name or browse by specialty.