Memorial Medical Center-Livingston Receives Quality Health Care Award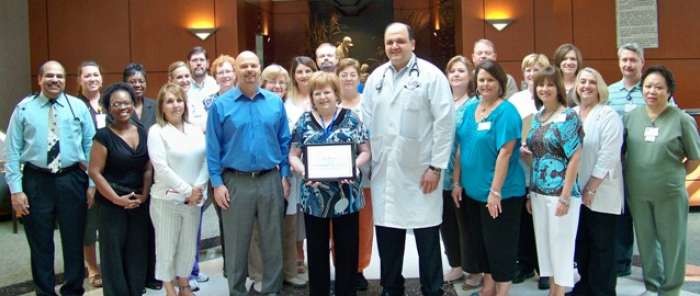 Memorial Medical Center-Livingston recently received the Texas Health Care Quality Improvement Award from TMF® Health Quality Institute, the Medicare Quality Improvement Organization for Texas.
Memorial Medical Center-Livingston was one of 35 hospitals in the state to receive the bronze award for enhancing the quality of care given to patients suffering from some of the most common and serious health conditions that affect adults.
The Texas Health Care Quality Improvement Award signifies that the Livingston hospital achieved an enhanced level of care related to acute myocardial infarction or AMI (heart attack), heart failure, pneumonia and surgical care. These clinical areas have been designated as national health care priorities by the Centers for Medicare & Medicaid Services (CMS) and The Joint Commission, an independent nonprofit, standards-setting and accrediting body in health care.
The award recognizes hospitals that are active in quality improvement and have made the required improvement on a composite scoring system, called the Appropriate Care Measure (ACM). For acute care hospitals, the ACM consists of 27 quality indicators – seven AMI, four heart failure, six pneumonia and ten surgical care measures.
"Here at Memorial Medical Center-Livingston, we continue to strive for quality health care for our patients – that's our daily goal," Memorial Medical Center-Livingston CEO David LeMonte said. "We are always looking for ways to enhance what we offer to our community. This award recognizes our success and our accomplishments. We are very proud."
CMS and The Joint Commission targeted these areas as priorities because they measure care for common, serious health conditions that could potentially affect all adults. The quality measures – such as an initial antibiotic dose within four hours of admission for patients with pneumonia – are designed to ensure hospitals provide care consistent with current medical guidelines.
Out of 214 participating Texas hospitals, two were presented with the Texas Health Care Quality Improvement Gold Award, 129 hospitals received the Silver Award, and 35 hospitals earned the Bronze Award. Hospitals receiving these awards were recognized at a special ceremony in Austin on May 3.
"As a nonprofit consulting company focused on quality health care, TMF is proud to recognize these hospitals for promoting quality improvement activities and their senior management for promoting a quality culture," said Tom Manley, CEO of TMF Health Quality Institute. "Quality improvement is a complex and demanding process, and we thank Memorial Medical Center-Livingston for their commitment to improving the health of Texans and the efficiency of health care in our state."
TMF established the awards program in partnership with The Texas Hospital Association, Texas Medical Association, Texas Organization of Rural & Community Hospitals and Texas Osteopathic Medical Association.
For more information on the awards program, go to the TMF Health Quality Institute awards website at https://award.tmf.org.
Cutline: Memorial Medical Center-LIvignston received the Texas Health Care Quality Improvement award due to the hard work and effort of the entire hospital staff. Pictured from left to right (front row): C.K. Mani, M.D., Chief of Staff 2012; Nanika Lockheart; Cindy Cain, David LeMonte, Administrator; Norma Sanford, Chief Nursing Officer; Elias Kanaan, M.D., Chief of Staff in 2011; Stacey Wesney; Peggy Stapleton; Edna Almirol; Donnett Wallace; and Edna Almirol. Front left to right (back rows): Tanisha Findley; Tammy Butler; Teri McClung; Dale Griswold; Mary Norris; Barbara Wilkins, Alicia Hendrix; Doug Wilder; Anne Parrish; Keith Mayes; Elizabeth Carlson; Melinda New; and Ken Jobe.
Publish date:
Tuesday, May 15, 2012
Find a Doctor
---
Looking for a doctor? Perform a quick search by name or browse by specialty.