Memorial Medical Center-Livingston Welcomes New Directors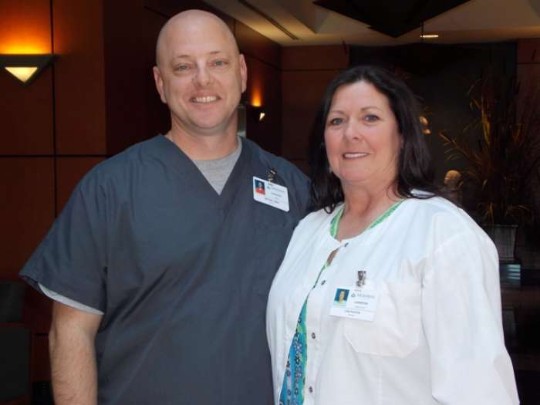 Memorial Medical Center-Livingston welcomes the new Director of the Critical Care Department and the new Director of Radiology.
Lisa Paxton will head up the Critical Care department, and Michael Timko will oversee the Imaging Department.
Paxton returns to Memorial from Cleveland Regional Medical Center where she was most recently the Emergency Department Director. Paxton served as Emergency Department Staff Nurse in Livingston in 2000. Since that time, she has served in multiple managerial roles in Cleveland, including Emergency/Trauma Manger, Acute Care Director and Nursing Supervisor.
"I really want to see growth in all aspects of critical care here in Livingston – both in our ICU and Emergency Department," Paxton said. "We have phenomenal physicians and nurses here, and I want their positive attributes to shine through quality customer service."
Paxton and her husband, Brian, have four children. The couple will reside in Livingston with their youngest daughter, Chasity.
Timko also comes to Livingston from Cleveland Regional Medical Center where he served as the Director of Diagnostic Imaging. Timko is a retired First Sergeant in the U.S. Air Force with 23 years of service. During that time, Timko managed the largest Level 1 Trauma Interventional Radiology Department in the Air Force. Timko is a ARRT-registered Radiologic Technologist with more than 15 years of experience in Utah and Texas. He earned his Bachelor of Science in Business Administration/Healthcare Administration from Wayland Baptist University.
Timko and his wife Christine have four children, Zachary, Thomas, Avery and Pierce.
"We are excited to fill these two positions with people who have extensive experience in their fields," Memorial Medical Center-Livingston Interim Administrator Earl Denning said. "Our Emergency Department and our Imaging Department play important roles in our hospital's success. We look forward to working with both Lisa and Michael and the innovative ideas they bring to the table."
Paxton's and Timko's first day was March 5.
Publish date:
Friday, March 15, 2013
Find a Doctor
---
Looking for a doctor? Perform a quick search by name or browse by specialty.