Memorial Medical Center – Lufkin Celebrates Radiologic Technology Week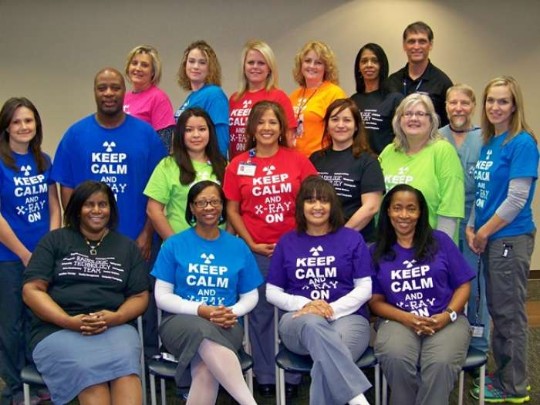 They help identify pathologies, plan and administer treatment and restore patient health.  Radiologic Technologists specialize in breast imaging, computed tomography (CT), cardiac-interventional procedures, magnetic resonance imaging (MRI), nuclear medicine, ultrasound, radiation therapy and general diagnostic radiology.  Memorial Medical Center – Lufkin recently recognized these technologists during National Radiologic Technology Week. 
Photo 1:  Among those being recognized for their efforts are, (front, l to r) Betty Langston, Pauline Porter, Johnita Spencer, Katheline Westley (2nd row, l to r) Jade Minchew, Gary Barron, Yanett Lopez, Irma Sanchez, Hortincia De La Cruz, Susan Burquist, Donald StJohn, Deidra Stanford, (back row, l to r) Amy Ford, Angie Barker, Heather Walker, Karen Pope, Linda Mclain and  Billy Malnar, Director of Imaging Services (not pictured: Selina Day, Pam Perry, Jodette DeForest, Armin Solis, Melissa Goins, Beverly Powers, Charlene Squyers, Jessica Duggan, Tiffany Hogg, Caroline Dang, Phuong Tran, Rachel Woolley, Monica Aguilar, Tammy Pinkney, Sarah Evans, Julie Rawlinson, April Elrod, Pete Youngblood, Joy Killam, Kelly Hunt, Cherrie Polasek, Denise Cunnigan, Chasity Sellars, Amber Bradley, Betty Petty, Alejandra Romero, Casey Davis, Charlsey Mackey and Laura Griffith).
Photo 2:  Also being recognized are, (l to r) Debbie Steele, Tracey Turner and Tanya Ethridge.
Publish date:
Thursday, November 21, 2013
Find a Doctor
---
Looking for a doctor? Perform a quick search by name or browse by specialty.