Memorial Medical Center-Lufkin Earns Outstanding Stroke Care Award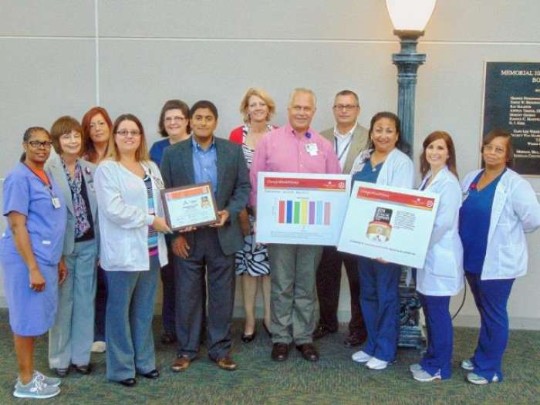 For the third year in a row, Memorial Medical Center-Lufkin exhibited the highest standards in stroke care and was awarded the Get With The Guidelines-Stroke Gold Plus-Target Stroke Quality Achievement Award from the American Stroke Association and the American Heart Association. The hospital was also recognized on the Target Stroke Honor Roll for its work in reducing the Door to Needle times for patients receiving tPA, a clot-busting drug.
The award recognizes the hospital's commitment and success in implementing excellent care for stroke patients, according to evidence-based guidelines.
"At Memorial, we value our commitment to providing aggressive, proven stroke care," System Chief Operating Officer and Market President, Memorial Medical Center-Lufkin Shawn Barnett said. "We are proud to receive this award which exemplifies the work being done here."
A representative from the American Heart Association was on hand this month to present the award to members of Memorial's stroke team and other hospital administrators.
The Get With The Guidelines measures of quality are all aimed at reducing death and disability and improving the lives of stroke patients.
To receive the award, Memorial's stroke professionals excelled in achieving and sustaining the Get With The Guidelines Stroke Performance Achievement indicators. The staff also consistently met or exceeded the Get With The Guidelines Stroke Quality Measures that enhance patient quality and outcomes. Additionally, the team excelled in administering Intravenous Thrombolytic Therapy in less than 60 minutes for applicable ischemic stroke patients.
 According to the American Heart Association/American Stroke Association, stroke is one of the leading causes of death and serious, long-term disability in the United States. On average, 785,000 people suffer a new or recurrent stroke each year.
Publish date:
Wednesday, August 20, 2014
Find a Doctor
---
Looking for a doctor? Perform a quick search by name or browse by specialty.