Memorial Medical Center-Lufkin participates in citywide disaster drill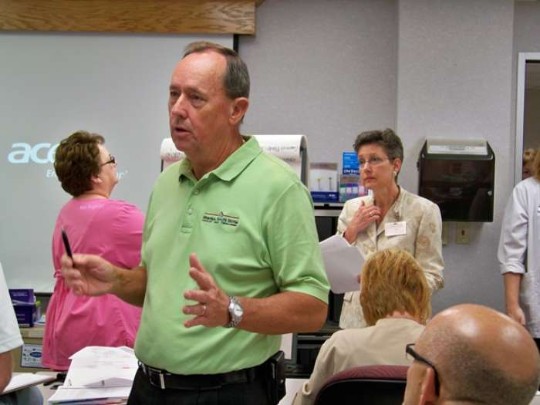 As toxic chlorine gas began to quickly creep through downtown Lufkin following a massive train derailment, the staff at Memorial Medical Center-Lufkin implemented its well-designed Emergency Operation Plan.
As a community partner committed to the well-being of Lufkin residents, Memorial Medical Center-Lufkin stands prepared and ready to help those with medical needs when a disaster strikes.
During a mock drill organized by the city of Lufkin Tuesday, Memorial Medical Center-Lufkin admitted 15 "patients" with varying degrees of injuries from mild to severe. Two casualties also arrived at the emergency department. With the influx of patients also came an additional challenge due to a lack of water pressure caused by a water main break in downtown Lufkin.
During the simulated drill, the train carrying the toxic gas came off the tracks and crashed near Lufkin Industries at 8 a.m. Tuesday, causing city officials and other community partners to implement Code Black policies and procedures. City emergency personnel notified the staff at Memorial of an impending influx of patients around 8:20 a.m. Mere minutes later, the staff was notified that the patients had been exposed to chlorine gas. When inhaled, the chemical can cause coughing; chest tightness; a burning sensation in the nose, throat, and eyes; blurred vision; burning pain, redness, and blisters on the skin; difficulty breathing or shortness of breath; or fluid in the lungs (pulmonary edema) within 2 to 4 hours, according to the Centers for Disease Control and Prevention.
Within 20 minutes, Tyler County Nursing School students, who were playing the role of the patients contaminated by the toxic gas, began arriving to the hospital's emergency department suffering from multiple respiratory complaints and chemical burns. Based on the severity of each initial diagnosis, the patients were divided into "zones" to receive optimal care.
The hospital also followed its backup plan for water procurement when the city notified officials of a break in a downtown water main. Additional off-duty staff and physicians were also called in to efficiently handle the triaged patients, as well as the hospital's daily emergency department activity.
HAM radio operators were on hand to manage communications in Memorial's emergency command center, as well as in the Angelina County and Cities Health District's emergency command trailer located outside the emergency department.
Memorial has a standing disaster Emergency Operation Plan, which was recently restructured and reviewed by the hospital's management staff. That policy was put into place during the mock drill Tuesday, and hospital staff followed procedures accordingly and with limited challenges.
"It's important for us to participate in drills like the one simulated by the city of Lufkin so that our staff is ready for anything that may come our way," Chief Nursing Officer and Chief Operating Officer Peggy Mortensen said. "It takes all of us from our nursing staff to our financial department to carry out this plan, and everyone works very well together."
Memorial officials met Tuesday following the drill to review how the plan was carried out.
"This was a learning experience for all of us," Mortensen said. "We certainly don't want to have to put our Emergency Operation Plan into place, but we know we are ready to do so if we must. Our staff performed at its highest level during this drill. Here at Memorial, we are ready if disaster strikes."
Participating in mock drills helps prepare the Memorial staff for unfortunate situations, such as local or natural disasters; and that readiness has paid off in the past. The hospital's Emergency Operation Plan was put into place during the hurricanes of 2005 and 2008 when evacuees from the coast flooded Lufkin.
Cutline: Terry Elliott, (center) Memorial's liaison officer between the city and the hospital, explains the details of the drill to those in the Emergency Command Center Tuesday as Chief Nursing Officer and Chief Operating Officer Peggy Mortensen (right) and Director of Medical Affairs Jenny Ferguson (left) help organize.
Publish date:
Tuesday, June 26, 2012
Find a Doctor
---
Looking for a doctor? Perform a quick search by name or browse by specialty.