Memorial Medical Center - Lufkin receives Gold Performance Award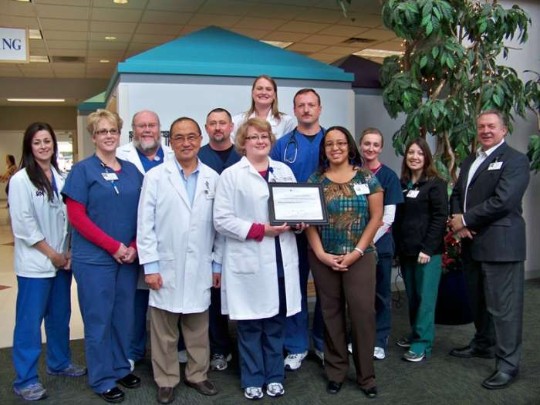 Memorial Medical Center—Lufkin received the ACTION Registry®–Get With The Guidelines Gold Performance Achievement Award for 2011 – one of only 167 hospitals nationwide to do so and the only hospital in Lufkin to receive the award.
The award was presented for Memorial's sustaining performance measures in the treatment of acute myocardial infarction, or heart attack, and for reaching an aggressive goal of treating these patients to standard levels of care as outlined by the American College of Cardiology/American Heart Association clinical guidelines and recommendations.
The single, unified national ACTION Registry®-GWTG™ was formed to empower health care provider teams to consistently treat heart attack patients according to the most current, science-based guidelines.
By participating in the national registry, hospitals can identify areas of excellence as well as opportunities for improvement.
To receive the ACTION Registry–GWTG Gold Performance Achievement Award, Memorial consistently followed the treatment guidelines in ACTION Registry–GWTG for eight consecutive quarters and met a performance standard of at least 85% for specific performance measures. Following these treatment guidelines improves adherence to  ACC/AHA Clinical Guideline recommendations, monitors drug safety and the overall quality of care provided to ST-elevation myocardial infarction (STEMI) and non- ST- elevation myocardial infarction patients (NSTEMI).
"The American College of Cardiology Foundation and the American Heart Association commend Memorial for its success in implementing standards of care and protocols. The full implementation of acute and secondary prevention guideline-recommended therapy is a critical step in saving the lives and improving outcomes of heart attack patients," Gregg C. Fonarow, MD, FACC, FAHA,  ACTION Registry-GWTG Steering Committee Chair and Director of Ahmanson-UCLA Cardiomyopathy Center and James Jollis, MD, FACC, ACTION Registry-GWTG Co-Chair and Professor of Medicine and Radiology at Duke University Hospital.
Memorial implemented the program in 2008 and has since received the Get With The Guidelines®–Heart Failure Gold Quality Achievement Award in May 2011, and the Get With The Guidelines®–Heart Failure Silver Performance Achievement Award in June 2010.
"Memorial is focused on improving the quality of our patients' cardiovascular care," said Rhonda Stephenson, Memorial Clinical Quality Coordinator. "We are extremely proud to be awarded the ACTION Registry®–GWTG Gold Performance Achievement Award for 2011, and will continue to strive for excellence."
The registry measures patient demographics, provider and facility characteristics, transfer facility therapies and reperfusion strategies, adverse event rates and compliance with ACC/AHA Clinical Guidelines recommendations.
Get With The Guidelines® is a quality improvement initiative through the American Heart Association which provides hospital staff with tools that follow proven evidence-based guidelines and procedures in caring for heart failure patients to prevent future hospitalizations.
Memorial also received the Get With The Guidelines®–Stroke Silver Performance Achievement Award in May 2011.
Pictured: Front row (from left to right): Karrie Stanaland, RN; Jacquie Evans, RN; Mario Estrella, RN, BSN, MHA, VP of Patient Services; Rhonda Stephenson, RN, BSN, Clinical Quality Coordinator; and Rosalyn Malone, Customer Service Representative. Back row (from left to right): John Brink, RN, Nurse Manager Cardiac Cath Lab; Rick Treadaway, RN; Stacy Garcia, RN, BSN, MBA-HCM Administrative Director of Critical Care; Dr. Kerry Evans; Tamra Jackson, RN; Samantha Knighten, CRT; and Gary Looper, President and CEO.
Publish date:
Friday, December 23, 2011
Find a Doctor
---
Looking for a doctor? Perform a quick search by name or browse by specialty.