Memorial Medical Center-Lufkin Receives Life Scope Monitor Donation from Volunteer Auxiliary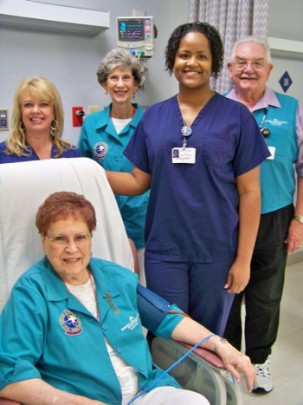 Memorial continues its commitment to bring the most advanced technology to the communities it serves.  The Volunteer Auxiliary at Memorial plays a significant role in providing that technology. Recently this group donated two Life Scope Monitors to Day Surgery.  Paula McLeod, RN, Day Surgery Manager and Frederica Gilmore, RN, explain to Don Newland, Sara Trammell and Clare Herrick how the new monitors will take blood pressure and oxygen saturation of patients as well as monitor cardiac output.  Money raised throughout the year by scrub, jewelry and Memorial Gift Shop sales makes it possible for the Volunteer Auxiliary to support the care of patients at Memorial.
Publish date:
Wednesday, April 11, 2012
Find a Doctor
---
Looking for a doctor? Perform a quick search by name or browse by specialty.