Memorial Medical Center-Lufkin receives national award for treating heart attack victims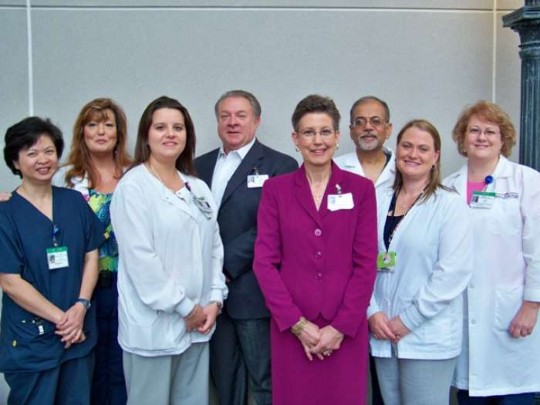 Memorial Medical Center-Lufkin's outstanding efforts in treating heart attack victims are being recognized nationwide. Memorial received the American College of Cardiology Foundation's NCDR ACTION Registry®–GWTG™ Platinum Performance Achievement Award for 2012 – one of only 164 hospitals nationwide to do so.
The award recognizes Memorial's commitment and success in implementing a higher standard of care for heart attack patients. The award also signifies that Memorial has reached an aggressive goal of treating these patients to standard levels of care as outlined by the American College of Cardiology/American Heart Association clinical guidelines and recommendations.
By participating in the national ACTION Registry®-GWTG™, hospitals, like Memorial, can identify areas of excellence as well as opportunities for improvement in consistently treating heart attack patients.
To receive the Platinum Award, Memorial successfully followed the treatment guidelines in the ACTION Registry–GWTG Premier for eight consecutive quarters and met a performance standard of 90 percent for specific performance measures. Following these treatment guidelines improves the overall quality of care provided to ST-elevation myocardial infarction (STEMI) and non-STEMI patients.
"The American College of Cardiology Foundation and the American Heart Association commend Memorial for its success in implementing standards of care and protocols. The full implementation of acute and secondary prevention guideline-recommended therapy is a critical step in saving the lives and improving outcomes of heart attack patients," said Gregg C. Fonarow, MD, FACC, FAHA,  ACTION Registry-GWTG Steering Committee Chair and Director of Ahmanson-UCLA Cardiomyopathy Center and James Jollis, MD, FACC, ACTION Registry-GWTG Co-Chair and Professor of Medicine and Radiology at Duke University Hospital.
Within Memorial's trauma service area, the prevalence for stroke, heart disease, diabetes and obesity are all higher than the state average. The statistics for smoking, high cholesterol, high blood pressure and residents who do not regularly exercise – all risk factors for heart diseases – are also higher in deep East Texas than across the state
"The number of acute myocardial infarction patients eligible for treatment is expected to grow over the next decade due to increasing incidence of heart disease and a large aging population, and we're here to take care of those patients," said Memorial President and CEO Gary Looper.
ACTION Registry–GWTG is a partnership between the American College of Cardiology Foundation and the American Heart Association with partnering support from the American College of Emergency Physicians, Society of Chest Pain Centers and the Society of Hospital Medicine.
The registry measures patient demographics, provider and facility characteristics, transfer facility therapies and reperfusion strategies, adverse event rates and compliance with ACC/AHA Clinical Guidelines recommendations.
As part of the hospital's goal for continuing excellence, Memorial Medical Center-Lufkin received the ACTION Registry®–Get With The Guidelines Gold Performance Achievement Award in 2011.
Publish date:
Friday, October 19, 2012
Find a Doctor
---
Looking for a doctor? Perform a quick search by name or browse by specialty.