Memorial Medical Center - Lufkin Recognized for Surgical Care Improvement
The TMF Health Quality Institute, an organization that works closely with the Centers for Medicare & Medicaid,  recently recognized Memorial Medical Center—Lufkin for participating in the national Surgical Care Improvement Project (SCIP) from August 2008 to July 2011 and playing a significant role in enhancing the wellbeing and safety of patients in Texas.  Memorial team members that worked towards enhancing the quality of care provided to surgery patients included Sherry Cramer, RN, Information Coordinator; Dr. Bill Newton; Marilyn Phillips, RN, Director of Surgical Services and Kim Fears, RN, Nurse Manager of Ambulatory Services.  Not pictured is Mario Estrella, RN MHA, Vice President of Quality Initiatives; Susan Schuller, RN, Director of Quality; Rhonda Stephenson, RN BSN, Quality Coordinator and Tina McDonald, CRNA.
SCIP is a national quality partnership of organizations focused on reducing the incidence of surgical complications.  SCIP is an extension of a previous initiative through the Centers for Medicare & Medicaid called the Surgical Infection Prevention Project.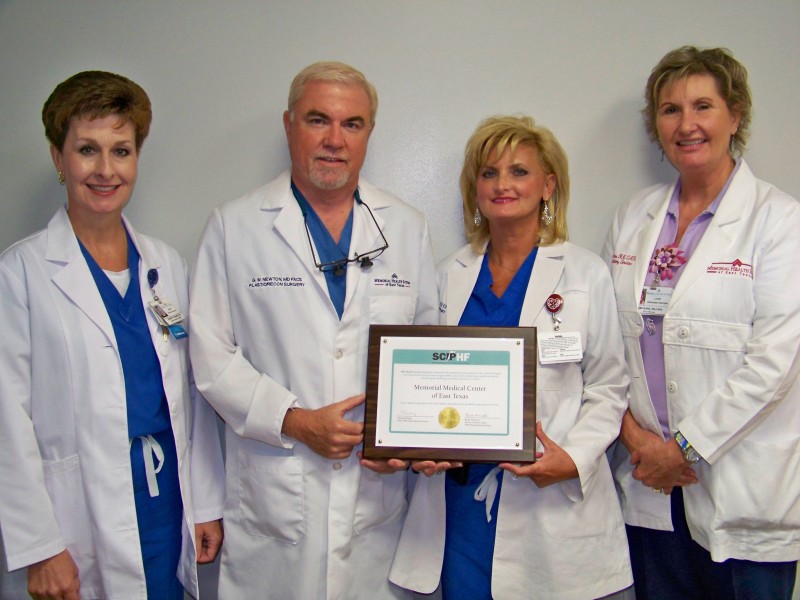 Publish date:
Wednesday, July 27, 2011
Find a Doctor
---
Looking for a doctor? Perform a quick search by name or browse by specialty.