Memorial Medical Center-Lufkin Recognizes Physical Therapists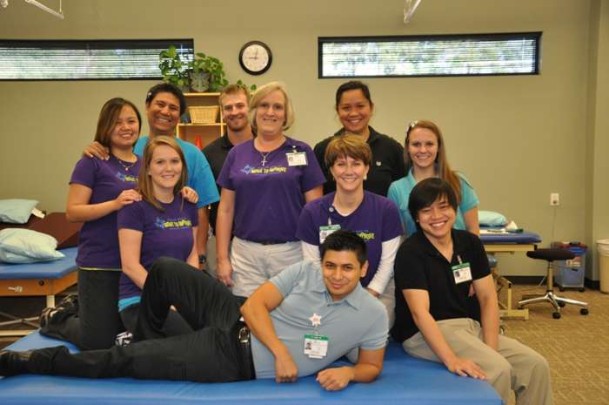 Memorial Medical Center – Lufkin is joining health care organizations nationwide in celebrating National Physical Therapy Month during the month of October.  Physical Therapists (PTs) and Physical Therapy Assistants (PTAs) at Memorial including, front row, David Reyna, PT, back row, left to right, Joanna Serafica,PT; Leo Dominguez, PT; Amy Moorhead, PT,DPT; Russell Hearne, PT Intern; Charlotte Huffstetler, PTA; Elisa Harris, PT; Shyla Tiu, PT; Miguel Cruz, PT and Alecia Larson, Rehab Tech (not pictured: Kathy Roodzant-Beck, PT; Perlita Tarongoy, PT and rehab techs, Lillie Garner and Ashley Poole) are being recognized for the important role they play in improving and restoring mobility for patients.  Physical therapists help people who have injuries or illnesses improve their movement and manage their pain. They are often an important part of rehabilitation and treatment of patients with chronic conditions or injuries.
Publish date:
Thursday, November 01, 2012
Find a Doctor
---
Looking for a doctor? Perform a quick search by name or browse by specialty.