Memorial Medical Center - Lufkin Recognizes Radiologic Technologists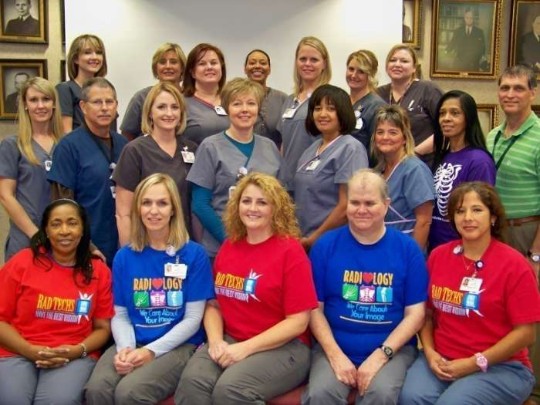 Working with some of the most innovative equipment in the medical field, Radiologic Technologists help identify pathologies, plan and administer treatment and restore patient health.  Memorial Medical Center – Lufkin recently recognized these technologists who specialize in breast imaging, computed tomography (CT), cardiac-interventional procedures, magnetic resonance imaging (MRI), nuclear medicine, ultrasound, radiation therapy and general diagnostic radiology during National Radiologic Technologists Week.  Among those being recognized were, back row, from left, Tiffany Kirkley, RDMS; Amy Ford, RT( R) (CNMT); Joy Scott-Killam, MS, RDMS, RVT; Toshina Gaye; Heather Walker, RT(R); Cathy Stubblefield, RT (R) and Cherie Polasek RDMS.  Middle row, from left, Kristy Oliver, RT(R) RDMS; Charles White, RN; Tracey Turner, RT(R)(MR); Beverly Powers, RT(R)( M); Johnita Spencer, RT(R)(MR); Debbie Steele; Linda Mclain and Bill Malnar, MS RT(R), Director of Radiology Services.  Front row, from left, Kathy Westley, RT(R); Deidra Stanford, RT(R) (CV); Karen Pope, RT(R); Steve Stewart and Irma Sanchez RT(R).
Publish date:
Friday, November 11, 2011
Find a Doctor
---
Looking for a doctor? Perform a quick search by name or browse by specialty.