Memorial Medical Center-Lufkin Recognizes Surgical Technologists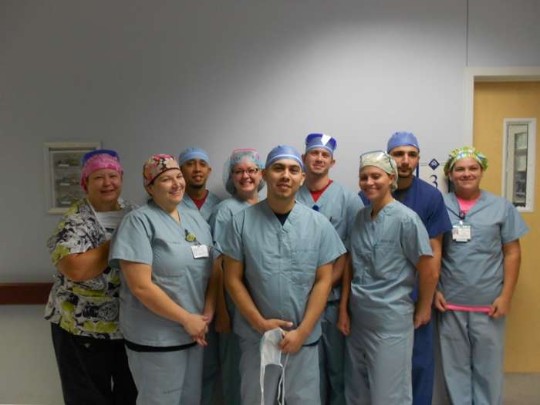 Memorial Medical Center – Lufkin recently recognized Surgical Technologists as part of National Surgical Technology Week.  Also known as Scrub Techs, Surgical Technologists not only assist during an operation by passing instruments and other sterile supplies to surgeons and surgical assistants, but they also have the responsibility of preparing the operating room for surgery.  In fact, Surgical Technologists are tasked with setting up surgical instruments and equipment, sterile drapes, and sterile solutions. They assemble both sterile and nonsterile equipment, as well as check and adjust it to ensure that it is working properly.  The scrub techs recognized included Leslie Friday, LVN; Tori Simpson; Oscar Hercules; Stefanie Vaughn; Carlos Solorzano; Tyson Hines; Brittney Findley; Hani Qamhieh and Rhonda Winebrenner (not pictured: Stephen Childress; Stephanie Dilday, LVN; Jamie Flournoy; Jairo Monroy and Kenneth Frasher).
Publish date:
Friday, September 27, 2013
Find a Doctor
---
Looking for a doctor? Perform a quick search by name or browse by specialty.