Memorial Medical Center – Lufkin Volunteer Auxiliary Provide Bike for Outpatient Rehabilitation
Memorial Outpatient Therapy Center recently (MOTC) received a new SportsArt recumbent bike thanks to the generosity of the Memorial Medical Center – Lufkin Volunteer Auxiliary.  Leo Dominguez (on bike), (front, l to r) Desiree Flores; Jean Mizell, Volunteer; Jessica Conn; Daniel Torres, (back, l to r) Kathy Beck; Leah Minter; Sandy Kraemer; Jerry Kocar, Volunteer; Gloria Gregory, Volunteer Auxiliary President and Jodi Jordan show off the donated bike.  The bike will be used with a majority of patients who receive services at the MOTC.  Physical Therapists will use the bike for strengthening leg muscles, for helping the brain and nerves remember how to use legs in a reciprocal motion, and it helps with warming up patients before doing some stretching or manual treatment. The MOTC requested the new bike because this is the most used piece of equipment in the gym and previously only had one available.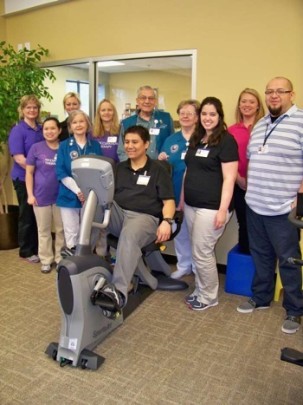 Publish date:
Monday, March 03, 2014
Find a Doctor
---
Looking for a doctor? Perform a quick search by name or browse by specialty.