Memorial Medical Center-Lufkin Volunteers donate bed extenders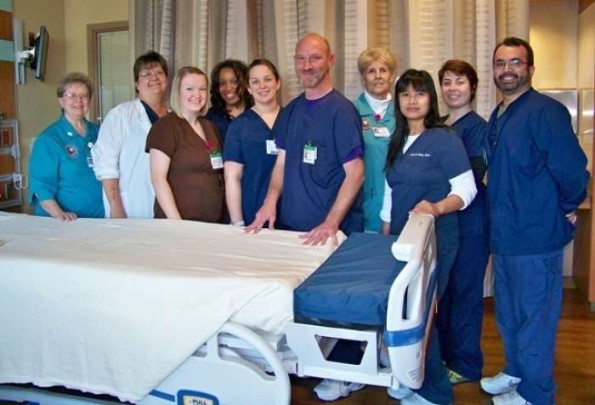 The Memorial Medical Center-Lufkin Volunteer Auxiliary recently donated bed extenders for the comfort of the hospital's taller patients. The Auxiliary votes on financial requests made by the hospital staff each quarter. Most recently, the volunteers unanimously agreed to purchase eight of the hospital bed extenders for the Intensive Care Unit and the Progressive Care Unit. These extenders add 10 more inches to the end while allowing the beds to maintain functionality.
Money raised through scrub and jewelry sales and the Memorial Gift Shop makes it possible for the Volunteer Auxiliary to support the care of patients at Memorial.  
Pictured from left to right: Volunteer Auxiliary President Gloria Gregory; Lou Hutton, RN; Ashley Lyles, US; Keri Ivey, RN; Sarah Brooks, RN; Richard Fennell RRT-NPS, RPFT,RN, CCRN-CSC, CNRN; Volunteer Jeannie Owens; Cathy Solis, RN; Katy Beaudion, RN; and Jarrad Grumbles RRT, RN, CCRN-CMC
Publish date:
Monday, November 19, 2012
Find a Doctor
---
Looking for a doctor? Perform a quick search by name or browse by specialty.