Memorial Medical Center-Lufkin Volunteers Donate Bilirubin Meter and Exam Light for Newborns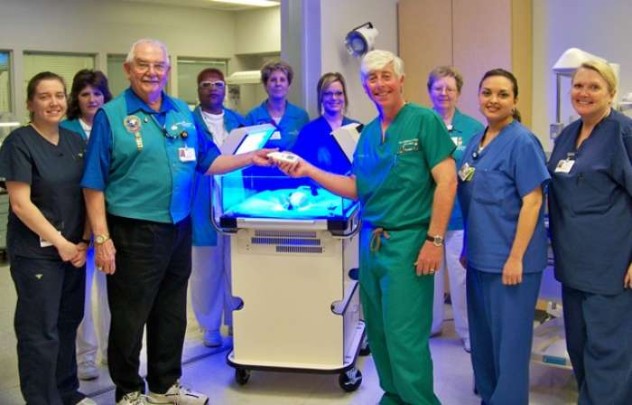 A new piece of equipment in the Henderson's Unit at Memorial Medical Center-Lufkin will alleviate the pain involved with diagnosing newborns with jaundice. The Volunteer Auxiliary at Memorial recently purchased an exam light and Bilirubin meter used to monitor high levels of jaundice, or yellow skin, in newborns. Nurses in the Memorial nursery now are able to use the noninvasive and painless Bilirubin meter instead of drawing blood.
Dr. George Fidone; Yvette Compean, RN, BSN; Sallie Mooney, RN; Krisit Jordy, RN; and Toni Fleming, RN, BSN, recently thanked the Volunteers, represented by Don Newland, Memorial Volunteer Auxiliary President, Gloria Gregory, Jeannie Owens, Sylvia Goff and Lorie Nettles for their generous donations.
The Volunteers raise funds through the hospital gift shop, jewelry, book and scrub sales. Last year, the volunteer group surpassed the $1 million mark in contributions to the hospital.
Publish date:
Thursday, March 08, 2012
Find a Doctor
---
Looking for a doctor? Perform a quick search by name or browse by specialty.