Memorial Medical Center-Lufkin volunteers give away $15,000 to students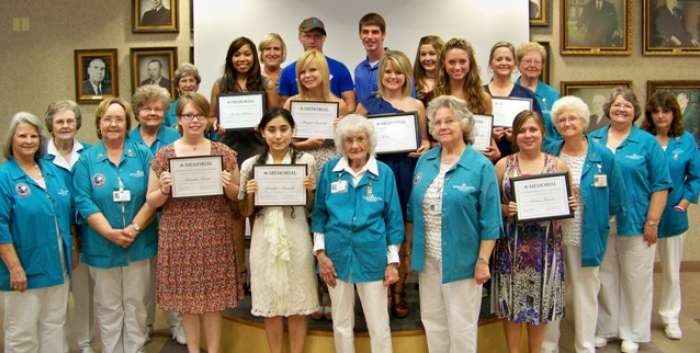 On July 12, the Volunteer Auxiliary at Memorial Medical Center-Lufkin presented $1,000 scholarships to 15 students pursuing degrees in health care. The Daisy Wadsworth Memorial Scholarship recipients are Morgan Faircloth, Kirby Goehring, Heather Hollingsworth, Loren Huffstetler (not pictured), Chance H. Johnson (not pictured), Dylan Johnson Griselda Mansilla, Stacey McKnight, Morgan Mullins, Blaire A. Reynolds (not pictured), Makayla Swearingen, Amanda M. Torres, Cody Truett, Lauren Turner and Ke'ara Williams.
The scholarships are funded through popcorn sales at Memorial. The Volunteers, known as "Popcorn Poppers," are Chris Malone, Patsy Weems, Hellen Schmidt, Sarah Page, Sara Jo Trammell, Dorothy Brock, Carolyn Crawford, Gloria Gregory (Auxiliary President), Alta Sharry, Jo Ann Koeneke and Lorrie Nettles.
Publish date:
Thursday, July 19, 2012
Find a Doctor
---
Looking for a doctor? Perform a quick search by name or browse by specialty.