Memorial Medical Center-San Augustine Celebrates Laboratory Week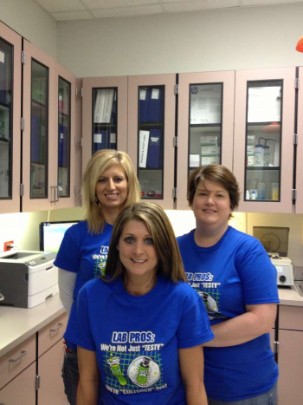 Medical laboratory professionals often work behind the scenes in a healthcare setting performing critical testing to aid physicians in making informed decisions regarding a patient's care and treatment.  Memorial Medical Center – San Augustine recently recognized its laboratory professionals during National Laboratory Week.
Laboratory professionals perform tests on body fluids, interpret the results and help provide a complete picture of a patient's health. Memorial operates a lab within the hospital as well as Memorial Express Lab.  Memorial Express Lab provides lab testing for all tests without physician orders in an outpatient setting. 
The MMC-San Augustine Laboratory and Express Lab offer glucose testing, cholesterol testing, drug screening, and more.  The lab recently added Testosterone, Progesterone, Estradiol, LH and FSH to their menu of tests.   These tests are most often used for fertility testing but are also used for hormone balance testing, men's health, and pre and post menopause testing.  Most test results are returned within 24 hours.  Patients can then visit their physician if there are any concerns regarding their results.
Memorial Express Lab is open Monday thru Friday 8:30am – Noon and 1:00 pm – 4:30 pm.  For more information and to see other tests offered by Express Lab visit https://www.memorialhealth.org or call 936-275-3446 Ext. 230.
Publish date:
Thursday, May 02, 2013
Find a Doctor
---
Looking for a doctor? Perform a quick search by name or browse by specialty.