Memorial Medical Center- San Augustine Offers Faster Results with New Equipment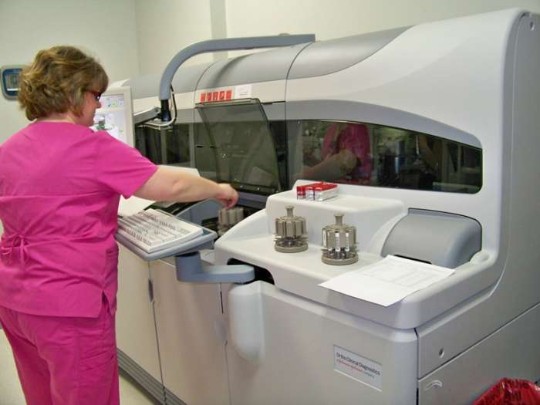 Faster and more accurate results are two things that patients and physicians can now expect from the Express Lab and the hospital laboratory at Memorial Medical Center – San Augustine.  With the recent installation of the Vitros 5600, MMC – San Augustine is now able to offer more tests closer to home with shorter turn around times.
"We will be able to provide faster results for lab tests physicians have ordered," said Darlene Williams, Administrator for MMC – San Augustine. "This will aid physicians in diagnosing patients."
The new machine has made it possible to add 16 tests that can be processed in San Augustine.  Traditionally, these tests were sent to Memorial Medical Center – Lufkin for processing.  The machine has streamlined many lab procedures so that the majority of tests performed can be completed from one tube of blood instead of many tubes.
"We are excited about having this machine and being able to offer our physicians and patients more tests locally," said Wendy Tylich, Laboratory Manager MMC-San Augustine. "Most of our patients come through outpatient services and have orders from Nacogdoches, Lufkin, Jasper, Beaumont or Houston.  These patients now have the convenience of staying close to home for most of their outpatient lab testing."
Some tests that can now be completed in San Augustine include Direct LDL, Iron, B12, and Folic Acid.  Other tests that are not ordered as often but can also be performed include Rheumatoid Arthritis, Ferritin, and Phenobarbital.
For a complete list of tests that are offered at Express Lab – San Augustine visit www.memorialhealth.org or call 936-275-3446 ext. 230.
Publish date:
Tuesday, May 15, 2012
Find a Doctor
---
Looking for a doctor? Perform a quick search by name or browse by specialty.