Memorial Names New President & CEO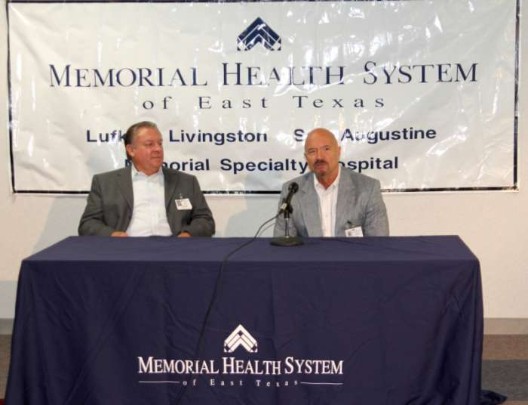 Memorial Health System of East Texas, a local non profit hospital system headquartered in Lufkin, Texas, has named Gary Looper as the System's President and Chief Executive Officer (CEO) to succeed current President and CEO, Bryant Krenek.  Looper will assume the leadership on October 1, 2011, as Mr. Krenek transitions into a consulting position for the hospital system.  The move is part of a leadership succession plan that the hospital system has been working toward the last two years.
 An accomplished health care executive serving over 20 years as CEO of various, successful health care organizations, Mr. Looper has been acting as the System's Vice President of Operations for the last eight months.  His management career in health care includes executive leadership roles in multi-hospital systems for HCA, Triad and Community Health Systems.  He was first introduced to Lufkin in 2001 when he served as the CEO of Woodland Heights Medical Center for three years.  Most recently, Mr. Looper served as the Regional Manager of Central Texas Operations for Community Hospital Corporation (CHC), a company that provides management and consulting services for non profit hospital systems. He has served as a consultant to several of the most successful health care companies in CHC's markets.
"We are pleased to welcome Gary back to East Texas. His vast health care experience and strong industry relations are beneficial to our hospital system as we work through the many challenges facing health care today, "said Jack Sweeny, Board Chairman for Memorial Health System of East Texas.  
As Mr. Looper transitions into the System's top leadership position, Bryant Krenek will remain an influential member of the System leadership. "During his ten year tenure with Memorial, Bryant was instrumental in Lufkin earning the reputation as the region's health care hub.  From the construction of a new 66 bed hospital in Livingston to the development of the area's first dedicated cardiovascular and stroke center in Lufkin, Bryant's leadership has contributed to the growth of the East Texas medical community," said Sweeny.  
Mr. Looper and his wife Sheryl will reside in Hudson.  They have four adult children and six grandchildren.
 
Publish date:
Tuesday, August 23, 2011
Find a Doctor
---
Looking for a doctor? Perform a quick search by name or browse by specialty.