Memorial Nurse Receives Top Nursing Honor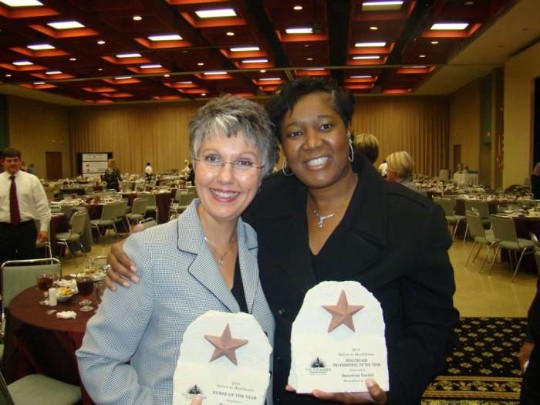 The Lufkin/Angelina County Chamber of Commerce recently held its third annual Salute to Health Care awards with local health care professionals and a philanthropist being recognized for outstanding performance and community service. Memorial congratulates each award winner—Patricia Jones, Nurse of the Year; Demetress Harrell, Healthcare Professional of the Year; Simon "Bubba" Henderson, III, Individual of Merit; and George Thannish, M.D., Lifetime Achievement Award Winner
Patricia Jones, Director of Community Based Care, for Memorial Health System of East Texas, was named "Nurse of the Year," for her efforts to care for special need evacuees during hurricanes Rita and Ike.  Ms. Jones, a registered nurse who also holds a B.A. in nursing and a certification as a Homecare and Hospice Executive, is the director of dialysis and homecare for Memorial.  According to her nomination, Ms. Jones volunteered her time to triage sick hurricane evacuees and coordinate their medical care.  Many of the evacuees were in need of dialysis care and would have suffered extreme consequences and possibly death had they not received immediate and appropriate treatment.
Ms. Jones also is credited for expanding the hospital's dialysis outreach following a crisis in the community when a competing dialysis center was unexpectedly forced to shut its doors.  Ms. Jones was instrumental in securing additional dialysis machines and extending the center's hours to care for the large number of displaced dialysis patients.
Nomination Submitted for
Patricia Jones, Nurse of the Year 2010
Mother, daughter, boss, volunteer, crusader, mentor… these are all words that describe our 2010 Nurse of the Year.
Patricia Jones began her career in Angelina County as a Lamaze teacher in 1981. She worked her way up to a leadership position within Memorial Health System of East Texas as the Director of Memorial Homecare in 1990.  Since then, she has taken Memorial Homecare from an agency that began with 12 patients to an agency with three locations who serve approximately 120 patients per month.
Within her job, patient safety and patient care have always been her priority.  The best example of this is her care of evacuees during Hurricane Lilly, Hurricane Gustov, Hurricane Rita and Hurricane Ike.  During each one of these disasters, she was asked to do what she could to help evacuees at the Special Needs Shelter that was set-up at the Lufkin Garrison Civic Center.  She went above and beyond what her job called her to do.  She stepped up and led the way for those who joined her to volunteer.  She made a list after each evacuation and that list grew and became a staple in the state disaster preparedness plan.  She has led the way for disaster preparedness for the state and other Home Health Agencies.  She has had an article published in the Homecare Journal of Texas and was interviewed by "Advance for Nurses" for their Gulf Coast edition.  She has contributed her time, expertise and passion to an area that has seen tremendous growth in awareness over the past 5 years and has paved the way for future development.
Although our recipient has contributed a great deal throughout her career to MHSET and the state, she has not forgotten where she comes from.  She is an inspiration in the level of community involvement and dedication she has shown.  She was one of the founders of the Leadership Tomorrow Program with the Lufkin/Angelina County Chamber of Commerce and served as the Charter Chairman of the program for its first 7 years.  She has touched many young lives through her leadership in the County 4-H program and still serves as the "animal buyer" for Memorial at the county shows in Lufkin, Groveton, Livingston and Woodville. 
This amazing woman is not just an incredible example to us all as a professional business women, but also as a heartfelt volunteer.  Her title as nurse calls on her to take care of those in need and to help other.  Even without the title she would do what she could do to help others.  She is the epitome of how one person can do big things with tenacity, grace and hard work.
Demetress Harrell, Administrator, Hospice in the Pines
Demetress Harrell was named the 2010 Healthcare Professional of the year.  Credited for creating Lufkin's only inpatient Hospice care unit at Memorial Medical Center—Lufkin, Ms. Harrell also is recognized for her efforts with countless community organizations, including her church, Mosaic Center, Samaritan Counseling Center, Stephen F. Austin State University School of Social Work and the Alcohol and Drug Abuse Council of East Texas. Ms. Harrell also is responsible for starting an annual children's grief camp.
Nomination Submitted for
Demetress Harrell, Healthcare Professional of the Year 2010
This year our recipient does not see patients on a set schedule, instead, she sees patients and loved ones on "an as needed basis."  As an advocate for the terminally ill and their families, she constantly challenges her staff to provide only the best care.  When visiting the inpatient unit, she provides individual attention to each family.  Recently she gently sang to a patient providing comfort during a difficult time.  The family was deeply moved as they saw their loved one being ministered to in such an intimate and compassionate way. 
She has been recognized by her peers in the hospice community as a leader by nominating and electing her to serve as the 2010 Board President of the Texas and New Mexico Hospice Organizations.  Serving in the role, she collaborates with state policy makers enhancing end of life care for East Texans.
A past board chairman and board member of this organization recently recalled a fond memory of her.  When his wife developed brain cancer, a friend suggested to him that he call her and in-list her care.  "That call brought her to my home with her crew and showed me her hands-on spirit and dedication," he said. 
With her initiative, she has surrounded herself with a professional, caring staff and is always working hard to improve the services of her organization as it relates to operations, staff and ultimately the patient and their families.  She never tires of doing good and clearly has the heart of service to all she comes into contact with. 
Her affect on our community expands beyond her work within the hospice domain.  She is an active member at her church where she serves in a multiplicity of roles.  As an adjunct Instructor at Angelina College she has inspired, educated and changed the lives of many of her students.  Valuing education, she and her husband established a scholarship fund which they contribute to annually.  She is involved in countless other organizations such as the Mosaic, Center, Samaritan Counseling Center, Stephen F. Austin State University School of Social Work, the Alcohol and Drug Abuse Council and the T&NMHO Board.  Children hold a special place in her heart; she finds time to volunteer at the Lufkin Boys & Girls Club and established an annual Children's Grief Camp. 
This recipient is inspiring, and has a commanding presence, speech and written word.  She is a passionate motivator and lives out her message.  She encourages growth while providing mentorship and reflects the truth in a powerful-life changing way.
Simon "Bubba" Henderson, III
The Lufkin/Angelina County Chamber of Commerce awarded Simon "Bubba" Henderson, III the "Individual of Merit" award for his efforts to enhance dialysis care in the deep East Texas area.  Henderson and his family's foundation created the Henderson Kidney Disease & Dialysis Center at Memorial Medical Center—Lufkin.  The creation of this facility has made it possible for patients to stay close to home to receive weekly and/or daily dialysis care, Additionally, Henderson funded additional dialysis machines to help treat patients during hurricanes Rita and Ike.  In 2006, when 136 patients were displaced when a competing dialysis center was forced to close its doors unexpectedly, Henderson answered the call for help and purchased additional machines for the Memorial dialysis center.
Nomination Submitted for
Simon Bubba Henderson III
Individual of Merit, 2010
This individual has served on the Board of Directors of Memorial Health System of East Texas since 1898.  There has been at least one member of his family on the board since the hospital opened. 
In September 1970, his parents donated $250,000 for the ICU Coronary Care Unit and in the early 90's the foundation donated the funds for the conversion of the Henderson Women's Unit to the first labor, delivery, recovery rooms in the area. 
In November 1981 the Henderson Kidney Center was dedicated having been built in response to unmet community needs with Henderson Foundation funds.  Prior to that, Angelina County citizens had to drive to Houston, Dallas or Tyler 3 times per week to receive life sustaining treatment.  Over the years, there have been numerous contributions but none more timely than the donation of 16 new dialysis machines in July 2008.
On April 27, 2008 our community experienced a tragedy when the DaVita Dialysis Center closed its doors for a short period of time.  The 136 patients that were suddenly displaced were routed to other units with the sickest routed in to the Henderson Dialysis Center.  At that time, the center's oldest machines were 16 years old and the youngest were 12 years old.   The overnight 50% increase in volume was taxing the machines beyond the limits of their mechanical age.  With no advanced notice, this gentleman worked with administration to develop a 3 year lease purchase agreement and had new machines in the center by July.
Then our community experienced another blow when Hurricane Ike literally came blowing into town.  If the Henderson Dialysis Center had not had the new machines, it would not have been able to accept any evacuees.  A 15 year old child who usually goes to Houston for treatment, in a specialized Pediatric Dialysis Center, could not go due to the impending storm.
The clinic was able to provide dialysis to the child because the new machines had a pediatric setting capability that the old ones did not have.
Parts from the 19 older machines were switched to make 8 working machines.  These refurbished machines were donated by Dr. So-kum-be who had them shipped at his own expense to a clinic in Nigeria.  The foundation's gift not only benefited our friends and neighbors in Angelina County, but it benefited needy patients a world away.
Not only has the Dialysis Center benefited from his generosity but others who have been beneficiaries of the Henderson Foundation's monetary gifts include: the American Cancer Society, American Diabetes Association, American Heart Association, Angelina Alliance for Children, Angelina County Cities and health District, Hospice in the Pines, Nurse Oncology Education Program, Planned Parenthood of Angelina county, the Salvation Army and the Women's Shelter of East Texas.
George Thannisch, M.D.
George Thannisch, M.D. received this year's Lifetime Achievement Award during the Salute to Healthcare ceremony.  A long time Lufkin pediatrician, Dr.Thannisch is best known for his dedication to children's health.  Dr. Thannisch opened his medical practice in Lufkin in 1958.  During his 37 years of practice, Dr. Thannisch also found time to volunteer in the community.  He is credited for creating Destination Imagination and the Lion's Club Z&OO Railroad at Ellen Trout Park and Zoo.
Nomination Submitted for
George Thannisch, M.D.
Lifetime Achievement Award
You have all heard of Arnold Swartzneager and the Terminator but have you heard of our very own Lufkin physician, "The Intimidator?" This physician not only scared the nurses but also scared the parents of the children who came to him for medical advice.
He was known as the "bear" but when you got past his somewhat rough outside, you actually found the "teddy bear" inside.  He had one goal and one focus- Children. 
He was always the proponent for the child.  Even though the parents of his tiny patients were sometimes intimidated by him and were even known to get the nurses to ask their questions, they loved him. Past patients recall their favorite memory of his office- the toy drawer!
This gentle giant is the descendants of ancestors who migrated from Germany in 1828 and was born and raised in Lexington, Texas.  He received his premedical education at the University of Texas and attended medical school at Baylor College of Medicine.
After serving two years in the United States Navy, he entered his first and only practice in Lufkin in 1958 and was there until he retired in 1995. 
He is married to the love of his life Laura and they have three children- Patricia, Mark and John.
In his spare time he enjoys gardening, raising Peruvian Paso horses and helping with the Lion's Club Rodeo serving cotton candy!
Were you aware that that the Z&OO railroad at the Ellen Trout Zoo was the "brainchild" of this recipient?
This Lions Club past President provided the leadership and work skills to complete the initial depot and track which was completed in 1970. The idea for building a railroad attraction began in 1968. Seeing that there wasn't much for children to do in the area, he remembered that a miniature train had been a lasting attraction at Hermann Park in Houston and so the journey began….
At the Z&OO's 30th Anniversary Celebration, our recipient was presented with the Melvin Jones Fellowship award for his lifetime efforts supporting Lionism. In 51 years of being a proud Lufkin Lion's Club Member he had never missed a meeting.
Those who worked with him recall that he was a great teacher always wanting his nurses to experience new things.  He was never too busy to stop, listen and give advice, whether it was medical advice or personal advice- he always took a minute to lend an ear.
Publish date:
Wednesday, November 10, 2010
Find a Doctor
---
Looking for a doctor? Perform a quick search by name or browse by specialty.