Memorial Offering Robotic Assisted Surgeries for Heart, Lung, Kidney and Gynecology Proceedures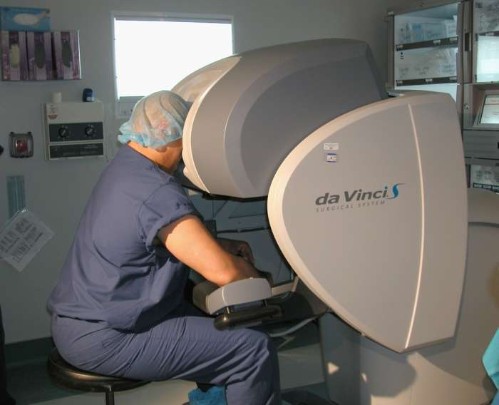 Over the course of a month, Inez Cahill began experiencing shortness of breath while walking around the track. She mentioned the symptoms to her physician. After running a series of tests, a mass was detected on her right lung. At 81 years young, Mrs. Cahill made the decision to have her first surgery using the da Vinci High Definition Robotic Surgical System at Memorial Health System of East Texas.
"The robotic assisted right upper lobectomy created quite a buzz in the surgery suite. After all Mrs. Cahill was the first patient to undergo this type of procedure in an East Texas hospital," said Dr. Taylor Pickett, Cardiothoracic and Vascular Surgeon. According to Dr. Pickett, this minimally invasive surgery results in less bleeding, less pain and a quicker recovery. "Traditional lobectomies call for very large incisions. However, with robotic assisted surgeries, the incision is only 8-12 millimeters in size," said Dr. Pickett.
"I am doing great! I was even able to walk the survivor lap at Relay for Life," said Ms. Cahill. "If you are going to have surgery, this is the method to use." I experienced little pain and in less than two weeks, I began cooking, making the bed and sweeping the floor."
Additionally, urology patients are seeing the benefits of robotic surgeries. Until recently, many kidney cancer patients needed to have the entire organ removed to get rid of a cancerous mass. With the da Vinci Robotic Surgical System at Memorial Health System of East Texas, physicians now can remove a kidney mass and save the organ and tissue.
"Performing a cryosurgical ablation with the Robotic System decreases the chances of kidney dysfunction while keeping a portion of the kidney," said Dr. Brent Campbell, a Lufkin Urologist, who was the first in the area to perform cryosurgical ablation. "We were able to remove a cancer mass from the bottom of the kidney, damaging very little tissue. With the robotic procedure, ninety percent of the kidney was saved, and the kidney continues functioning."
When John Menefee was diagnosed with prostate cancer he began asking about treatment options. Dr. Joe Dean, a Lufkin Urologist, discussed with Mr. Menefee prostatectomy surgery and the success he had using the da Vinci High Definition Robotic Surgical System at Memorial.
The da Vinci Robotic System is an alternative to traditional surgical approaches, which gives surgeons increased clinical capability while maintaining the same look and feel of open surgery. With this surgical system, the surgeon operates while seated comfortably at a console viewing a 3D image of the surgical field. The surgeon's fingers grasp the master controls below the display, with hands and wrists naturally positioned relative to his or her eyes. The system seamlessly translates the surgeon's hand, wrist and finger movements into precise, real-time movements of surgical instruments inside the patient.
"Robotic surgery is more precise than either open or laparoscopic surgery for tumors confined to the kidney or prostate and for correction of vaginal prolapse," stated Dr. Dean. "Rather than operate with two hands, I can precisely control four robotic instruments that have the ability to rotate 360 degrees, giving me far more efficiency than human hands or laparoscopic instruments."
"I was surprised that my surgery only required one night stay in the hospital and that I recovered so quickly and with little pain," said Mr. Menefee. "I was back to normal in a couple of days."
"Robotic surgery outcomes mean a better quality of life for the patient. The risks are minimal for incontinence or erectile dysfunction, which is common following a traditional prostatectomy," said Dr. Dean.
Also, the da Vinci Surgical System is used for hysterectomies and other gynecological procedures. Minimal incisions, shorter hospital stay and faster recoveries make robotic surgery ideal for patients.
"The robot is truly an amazing piece of equipment that allows major surgery to be performed with minimal impact on the patient," said Dr. Jerry Johnson, a Lufkin Obstetrician and Gynecologist. "Traditional hysterectomies require a large incision but, with the surgical system, only five small punctures to the skin are necessary. These areas are so small that stitches are not required and this causes less trauma to the muscle."
"We are just seeing the beginning of robotic surgery in gynecology. The visualization achieved with the da Vinci robot often is better than you can achieve in an open case," said Dr. Kaywin Carter, Obstetrician and Gynecologist. "Robotic surgery allows us to use minimally invasive surgery on patients who are obese, potentially have severe adhesions, or a large uterus. Now, we are seeing gynecologic malignancies and endometriosis operating procedures using this technique. Future applications already being used include telementoring, where a physician from another location can view the surgical site and give an intraoperative consult or even perform a surgery."
Memorial Health System of East Texas is the first hospital in Texas to purchase and use the da Vinci High Definition surgical system. As physicians are trained in other areas of surgery with the robotic system, Memorial Health System of East Texas will continue providing advanced surgical care with minimally invasive procedures and faster recovery times. The procedures are so successful that Memorial Health System of East Texas is considering purchasing another robotic system.
Publish date:
Sunday, June 01, 2008
Find a Doctor
---
Looking for a doctor? Perform a quick search by name or browse by specialty.