Memorial Partners with Local Entities to Promote Wellness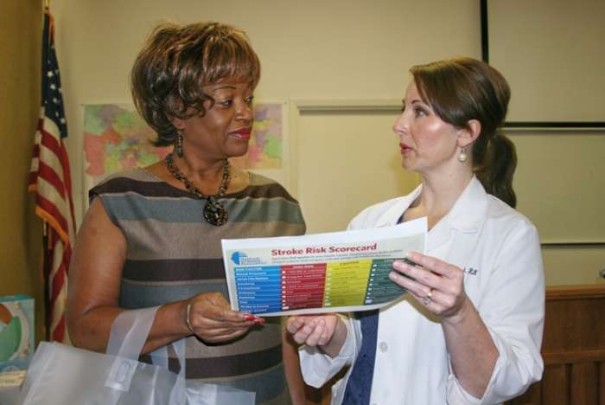 With the ever rising cost of health care and the uncertainty of health care reform, several Angelina County entities and businesses have partnered with Memorial Health System of East Texas to provide discounted wellness screenings and exams for their employees.
Memorial unites with local companies, such as Lufkin Industries and Angelina County, in an effort to identify employees with either previously un-diagnosed diabetes, pre-diabetes, difficulty in controlling blood sugar, or those at risk for heart disease or stroke.
With a mission of education, Memorial provides special seminars for employees, health fairs, confidential risk assessment forms, and discounted lab work for a multitude of issues. The potentially life-saving education and health screenings also dramatically reduce health care claims for the companies.
"This partnership with our local hospital has been greatly beneficial to the county and its employees," Angelina County Auditor Eddie Gray said. "We are first and foremost interested in the health of our employees. Health care can be costly, and it certainly becomes more attractive to people to receive their wellness screenings if we can share in the cost, reduce the cost or eliminate the cost for our employees. The county is especially appreciative of Memorial and its effort to educate our employees."
A primary focus at Memorial is diabetes self-management training. A staggering 12 percent of residents in East Texas have been diagnosed with diabetes, and that number does not include those who have gone undiagnosed and untreated. The hospital's Polk Education Center is the only American Diabetes Association accredited center in East Texas. Because of the wellness partnerships, many local self-insured employers have recently adopted polices of waiving deductibles and co-pays for their employees to have diabetes self-management training.
"Because I'm the county's auditor, I also look at the financial benefits of this program," Gray said. "We are self-insured. If we spend a little money on wellness programs now, and we can prevent future illnesses, diseases or other health issues, then we've saved a lot of money in the long run."
A team of Memorial staff members goes directly to different businesses to provide one-on-one education at specific seminars or health fairs. At these events, Memorial is capable of offering cardiovascular ultrasounds, hemoglobin A1C tests, coronary risk screening and prostate screening for men. All of these exams can be offered at a discounted cost to participating entities.
Such partnerships have seen a great amount of success. Recently, Angelina County and Lufkin Industries employees were identified with previously un-diagnosed conditions such as carotid blockages and abdominal aneurysms. Following a specific education program on the signs and symptoms of stroke, two Lufkin Industries employees suffered strokes on the job. Fellow co-workers easily recognized what was happening, and both employees arrived at Memorial within the "golden window" time frame which allowed for successful and early treatment.
"The education provided to our employees from Memorial has literally saved lives," Melody Hayes said. "At our wellness event last October, we had over 400 employees and their spouses participate. We opened the health fair up to spouses because we know that health care is a family matter. We plan on expanding that program this year." 
As a nonprofit hospital, Memorial's focus is the patients, as well as giving back to the community.
"It's important for us as a health care provider to be available for the community's needs," Director of Marketing Yana Ogleree said. "By partnering with our neighbors, we can reduce the number of emergency department visits or visits from those who require critical care services for heart attack, stroke, kidney disease, by-pass surgeries and amputations. Plus, the companies we partner with will see less catastrophic health care claims. That means a healthier community, which is exactly what we want to see."
Any industry interested in partnering with the hospital can contact Steve Spivey at 639-7675 or 635-9375.
Publish date:
Wednesday, April 24, 2013
Find a Doctor
---
Looking for a doctor? Perform a quick search by name or browse by specialty.