Memorial Puts Health Care Resources in the Palm of Your Hand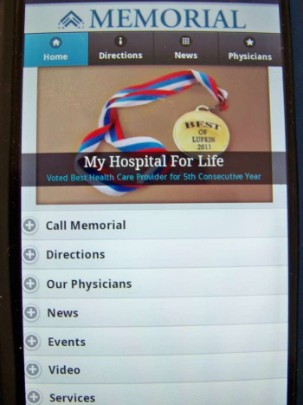 Whether you are looking for a physician, wanting to learn more about health care services offered in the area, or if you are searching for a job in health care, Memorial is putting those answers directly in the palm of your hand with its new mobile website. 
The Memorial mobile website can be accessed by opening the browser on any smart phone with Internet access and typing m.memorialhealth.us into the address bar.  The mobile site includes links to contact information for Memorial, directions to the hospitals, physicians, recent Memorial news, patient education videos, services available, career information and more.  With the touch of a finger, you can easily access and call Memorial Medical Center – Lufkin, Memorial Medical Center – Livingston or Memorial Medical Center – San Augustine.  Directions to each facility can also be accessed with just the tap on the screen or touch of a button. 
"This exciting new mobile site can be a valuable health care resource for people on the go," said Yana Ogletree, Director of Marketing and Public Relations at Memorial.  "This is basically a "mini" website that features our most popular website pages. Reports show that thousands of people are visiting our careers, service line, and "find a physician" web pages each day. These resources are now easily accessed from the palm of your hand."
The physician tab gives the mobile site user the ability to choose a physician by category, such as allergy, cardiology, family practice, etc., and by city.  Once the category and city are chosen, the physicians are listed alphabetically.  Contact information and general information about the physician can be accessed by choosing the physician's name.  You also can connect directly to that physician by simply touching the number displayed on the physician's web page.
The careers tab displays jobs that are available at Memorial. Choosing one of the employment opportunities opens a description of the position including qualifications and experience required.  Another feature on the mobile website gives you the opportunity to learn more about the health care services offered in our area, by simply tapping your smart phone screen.
The full website can be accessed from the mobile site as well as the Memorial Facebook page, Twitter page and YouTube site.  The mobile site was created by the marketing department at Memorial and David Guy of Pioneer Design in Lufkin.
Publish date:
Tuesday, October 25, 2011
Find a Doctor
---
Looking for a doctor? Perform a quick search by name or browse by specialty.