Memorial Unveils New Expansion for Stroke and Heart Patients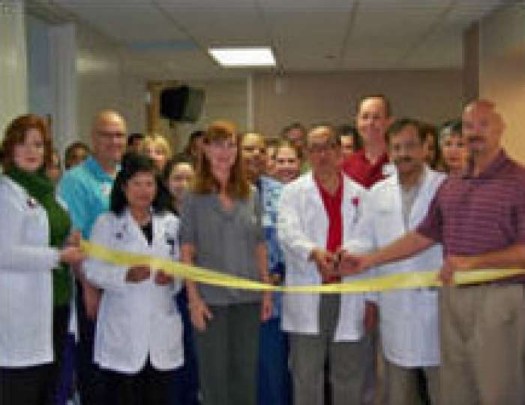 For the last six months patients needing heart and stroke care have experienced first hand the benefits of Lufkin's only dedicated cardiovascular and stroke treatment facility—The Cardiovascular & Stroke Center of East Texas. In fact, the program and facility have been so successful that the hospital system is announcing another expansion that will offer an additional level of care for these patients.
Memorial Medical Center—Lufkin cut the ribbon on a newly remodeled floor of the existing hospital, which will care for heart, stroke and medical surgical patients transitioning from the Progressive Care Unit and/or Intensive Care Unit to a more specialized level of care. A portion of the fifth floor located in the Kurth Tower has undergone a facelift complete with new flooring, paint, bathroom amenities and a nurses' station to better care for those patients who no longer need the advanced level of stroke or heart care that is administered at the Cardiovascular & Stroke Center of East Texas.
"The $187,000 expansion and renovation is a great addition to the Kurth Tower," said Suzan Monsour, Program Administrator for the East Texas Stroke Initiative. The floor offers a unique level of specialized care, which includes nurses specifically trained in stroke, cardiovascular and medical surgical care."
The dedicated unit also offers rehabilitation and heart and stroke education. According to Ms. Monsour, Memorial Medical Center—Lufkin is in the process of becoming Lufkin's first and only Joint Commission Primary Stroke Center—an achievement that validates the highest and most competent level of stroke care.
Memorial Medical Center—Lufkin began admitting patients to the new 5th floor addition March 25, 2010 shortly after 2 p.m. "We understand the critical need to offer this specialized service to East Texans. The number of people suffering from stroke and cardiovascular disease is significant. After all the new center opened with 24 availablerooms and within hours of cutting the ribbon on the new facility, the rooms were filled with patients," said Monsour.
Publish date:
Thursday, March 25, 2010
Find a Doctor
---
Looking for a doctor? Perform a quick search by name or browse by specialty.