Memorial Volunteer Auxiliary
Helping save lives. Members of the Volunteer Auxiliary at Memorial Health System of East Texas do not just give of their time, but they help save lives. The Auxiliary recently donated an Electrocardiogram (EKG) machine, a vital sign monitor, and a CO2 Capnography monitor to Ambulatory Services and Pre-Admissions at Memorial Health System of East Texas.
The EKG machine purchased for Pre-Admissions will be used to perform preoperative EKG's to identify any heart problems a patient may have prior to surgery, while the vital sign monitor is used for reading a patient's blood pressure, pulse rate and oxygen saturation before and after surgery. The monitor also can read the heart rhythm. The CO2 Capnography monitor reads the CO2 levels in the blood stream during moderate sedation.
"These monitors will increase the effectiveness of our nurses," said Kim Fears, RN, Nurse Manager of Ambulatory Services at Memorial Health System of East Texas. "The volunteers are not just helping the nurses do their job even better; they are helping to save lives."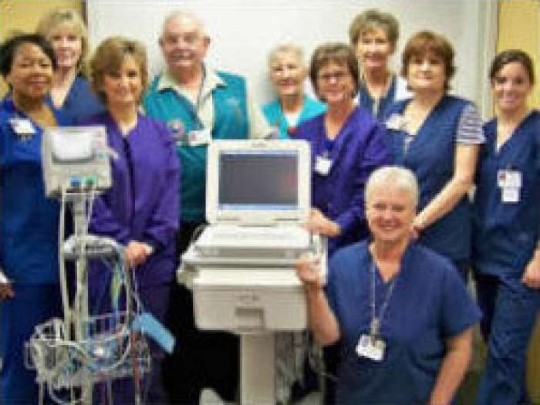 The Memorial Volunteer Auxiliary purchases equipment for the hospital by hosting various fundraisers throughout the year which include book and jewelry sales. Additionally, the volunteers sell popcorn with all proceeds funding health care scholarships for graduating seniors pursuing health care careers. For more information on becoming a volunteer, visit https://www.memorialhealth.org or call 936-639-7237.
Publish date:
Monday, June 29, 2009
Find a Doctor
---
Looking for a doctor? Perform a quick search by name or browse by specialty.